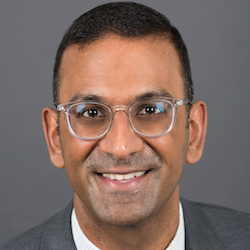 When: Thursday, October 5, 2023
10:00 AM - 11:00 AM CT
Where: Simpson Querrey Biomedical Research Center, Simpson Querrey Auditorium, 303 E. Superior Street, Chicago, IL 60611 map it
Audience: Faculty/Staff - Student - Post Docs/Docs - Graduate Students
Contact: Linda Mekhitarian Jackson (312) 503-5229

Group: Biochemistry & Molecular Genetics Seminar Series
Category: Lectures & Meetings
Description:
The Department of Biochemistry & Molecular Genetics presents:
Vijay G. Sankaran, MD, PhD
Jan Ellen Paradise, M.D. Associate Professor of Pediatrics, Harvard Medical School
Lodish Family Chair, Division of Hematology/Oncology, Boston Children's Hospital
Robertson Investigator, New York Stem Cell Foundation
Principal Faculty, Harvard Stem Cell Institute
Attending Physician, Dana-Farber/Boston Children's Cancer and Blood Disorders Center
Associate Member, Broad Institute of MIT and Harvard
Presentation:
"Impact of genetic variation on human blood diseases"
Abstract:
In this seminar, I will discuss how human genetic variation can provide key and unexpected insights into how the process of blood and immune cell production, or hematopoiesis, varies in health and can predispose individuals to acquiring diseases. I will illustrate this through two vignettes. First, I will discuss how genetic variation impacting the process of transcription elongation can alter blood stem cells to predispose individuals to acquiring blood cancers. Second, I will discuss how our development of improved single-cell multi-omic technologies that enable detection of endogenous cellular barcodes can redefine our knowledge of human hematopoiesis. 
Host: Dr. Feng Yue, Professor of Biochemistry and Molecular Genetics and Pathology