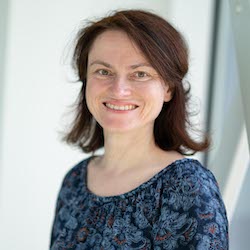 When: Thursday, October 12, 2023
10:00 AM - 11:00 AM CT
Where: Simpson Querrey Biomedical Research Center, Simpson Querrey Auditorium, 303 E. Superior Street, Chicago, IL 60611 map it
Audience: Faculty/Staff - Student - Post Docs/Docs - Graduate Students
Contact: Linda Mekhitarian Jackson (312) 503-5229

Group: Biochemistry & Molecular Genetics Seminar Series
Category: Lectures & Meetings
Description:
The Department of Biochemistry & Molecular Genetics presents:
Sarah-Maria Fendt, PhD
Principal Investigator and Professor of Oncology
Lab of Cellular Metabolism and Metabolic Regulation
VIB-KU Leuven Center for Cancer Biology (CCB)
Leuven, Belgium
Presentation:
"Nutrient dependencies of metastasis formation"
Abstract:
Metastasis formation is the leading cause of death in cancer patients. We find that metabolic rewiring is a liability of metastasizing cancer cells. For example, we discovered that extracellular remodeling of the metastatic niche, a process essential to metastasis formation, requires a transcriptional-independent regulation via the metabolites. Moreover, we provide knowledge on intratumor heterogeneity of metabolism and its role in metastasis formation. Specifically, we discovered that heterogeneity in the metabolic enzyme phosphoglycerate dehydrogenase (PHGDH) predicts in cancer patients the risk for metastasis formation. Strikingly, loss of PHGDH protein expression drives early dissemination of cancer cells due to a novel mechanism leading to the posttranslational modification of cell surface integrins. More recently, we have investigated the nutrient dependencies of metastasis and find a strong organ specific pattern. Thus, we study the metabolism of metastasizing cancer cells with the goal to define novel therapeutic strategies.
Host: Dr. Issam Ben-Sahra, Associate Professor of Biochemistry and Molecular Genetics