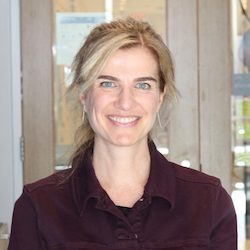 When: Thursday, October 19, 2023
10:00 AM - 11:00 AM CT
Where: Simpson Querrey Biomedical Research Center, Simpson Querrey Auditorium, 303 E. Superior Street, Chicago, IL 60611 map it
Audience: Faculty/Staff - Student - Post Docs/Docs - Graduate Students
Contact: Linda Mekhitarian Jackson (312) 503-5229

Group: Biochemistry & Molecular Genetics Seminar Series
Category: Lectures & Meetings
Description:
The Department of Biochemistry & Molecular Genetics presents:
Barbara Mellone, PhD
Professor of Molecular and Cell Biology
Dept. of Molecular and Cell Biology & Institute for Systems Genomics
University of Connecticut
Presentation:
"Centromeres and retroelements: selfish DNAs strike a deal"
Abstract:
Centromeres are essential chromosomal landmarks that dictate the point of attachment between chromosomes and spindle microtubules during cell division. The centromeres of D. melanogaster consist of islands of complex DNA enriched in retroelements occupied by the centromere-specific histone CENP-A, flanked by large arrays of simple satellites. While each centromere contains different assortments of repeats, all of which are also present elsewhere in the genome, a single element, the non-LTR retroelement G2/Jockey-3, is shared amongst all centromeres. G2/Jockey-3 is also a conserved centromere component in D. simulans, which otherwise contains highly divergent centromeric satellite DNA. Retroelements are found at the centromeres of organisms across taxa, but the functional significance of this association remains unknown. I will present our research focused on elucidating the functional significance of G2/Jockey-3 at centromeres and propose a model that reconciles the evolutionarily conserved connection between retroelements and centromeres.
Host: Dr. Daniel Foltz, Professor of Biochemistry and Molecular Genetics