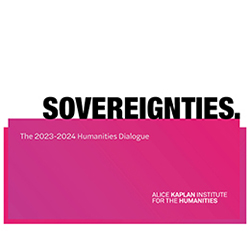 When: Thursday, April 18, 2024
All day
Audience: Faculty/Staff - Student - Public - Post Docs/Docs - Graduate Students
Cost: Free! Public welcome.
Contact: Jill Mannor (847) 467-3970

Group: Alice Kaplan Institute for the Humanities
Category: Academic, Lectures & Meetings, Global & Civic Engagement
Description:
Spring Keynote of the Kaplan Humanities Institute's SOVEREIGNTIES Dialogue:
Dialogue on Food Sovereignties
Raj Patel, Research Professor at the Lyndon B. Johnson School of Public Affairs, University of Texas, Austin, and member of the International Panel of Experts on Sustainable Food Systems.
Monica White, Distinguished Chair of Integrated Environmental Studies and Associate Professor of Environmental Justice at the University of Wisconsin-Madison, and past president of the Board of Directors for the Detroit Black Community Food Security Network.
Time and location TBA.
About the Sovereignties Dialogue
SOVEREIGNTIES is a year-long conversation that mobilizes humanities research to question, understand, and reimagine sovereignties—bodily, artistic, intellectual, geopolitical—and their global histories, contemporary challenges, and possible futures.
This Dialogue series seeks to examine Sovereignties in many dimensions. Restrictions on bodily autonomy—from borders to identity to reproductive rights—are pressing in familiar and unfamiliar ways. Collectives and individuals are practicing sovereignty beyond state formations—in gardens, on floating cities, in activist solidarities—even while confronting the consequences of pollution that seeps into bodies and foods. The Kaplan Humanities Institute Sovereignties Dialogue will contend with these contradictions, the histories that re-emerge in the present, and the forms of belonging forged against, within, and beyond the state.