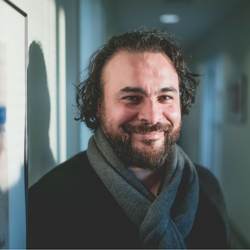 When: Saturday, January 21, 2017
10:00 AM - 5:00 PM
Where: Block Museum of Art, Mary and Leigh, 40 Arts Circle Drive, Evanston, IL 60208 map it
Audience: Faculty/Staff - Student - Public - Post Docs/Docs - Graduate Students
Cost: Free
Contact: Lindsay Bosch 847.467.4602

Group: Block Museum Exhibitions
Category: Fine Arts
Description:
The Block Museum presents an exhibition of newly commissioned work by the internationally acclaimed French-Algerian artist Kader Attia (b. 1970). The installation will be informed by Attia's research in the collections of Northwestern University's Herskovits Library of Africana Studies as well as other resources within the university. 
About the Artist
Kader Attia grew up moving between Algeria and the suburbs of Paris, and uses this experience of living as a part of two cultures as a starting point to develop a dynamic practice that reflects on cultural differences. He takes a poetic and symbolic approach to exploring the wide-ranging repercussions of Western cultural hegemony and colonialism on non-Western cultures, investigating identity politics of historical and colonial eras, as well as in our modern, globalized world.
His debut solo exhibition was held in 1996 in the Democratic Republic of Congo, and since then his artistic career has gained major international recognition with his inclusion in exhibitions such as the 50th Venice Biennale (2003), 8th Lyon Biennial (2005), and solo exhibitions at BALTIC Centre for Contemporary Art, Newcastle, UK (2007), the Institute of Contemporary Art, Boston, MA (2007), Centro de Arte Contemporáneo de Huarte, Spain (2008), Savannah College of Art, Savannah, GA (2008), and the Henry Art Gallery, University of Washington, Seattle, WA (2008).
Recent solo exhibitions include Reparatur 5. Acts at KW Institute for Contemporary Art, Berlin (2013) and Construire, Déconstruire, Reconstruire: Le Corps Utopique at Musée d'Art moderne de la Ville de Paris (2012). Attia's work was featured in dOCUMENTA(13) Kassel, Germany (2012); other recent group exhibitions include Terms and Conditions, Singapore Art Museum, (2013), Performing Histories (1), The Museum of Modern Art, New York (2012); 10 ans du Projet pour l'Art Contemporain, Centre Pompidou, Paris (2012) and Contested Terrains, Tate Modern, London (2011). His work is included in the 5th Marrakech Biennial, and Dak'Art 2016, the 12th Biennale of Contemporary African Art.
The artist lives and works in Berlin, Germany.
About the Herskovits Library of African Studies
Established in 1954, the Melville J. Herskovits Library of African Studies at Northwestern University is the largest separate Africana collection in existence. Its scope is as wide as the continent of Africa itself; its subject matter ranges from art, history, literature, music, and religion to communications, management, and cooking. The Africana collection is a resource for the entire university, and most of Northwestern's disciplinary programs are reflected in the collection. In addition to serving the NU community, the Herskovits Library staff also serves regional, national, and international scholars.
The Block Museum of Art and the Herskovits Library participate in an ongoing innitiative to document artists from African and the Diaspora who are involved in projects at the Block Museum. View the Herskovitz Library Kader Attia LibGuide.
Read More About Kader Attia
Miguel Amado, "Words: Kader Attia," Artforum (August 23, 2013)
Hannah Gregory, "Archival Impulse: An Interview with Kader Attia," Apollo (April 10, 2015)
Nazanin Lankarani, "French-Algerian artist Explores Identity and Repair," New York Times (June 11, 2013)