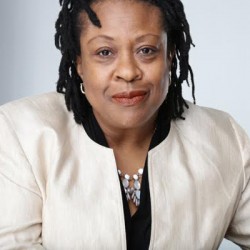 When: Wednesday, February 8, 2017
12:00 PM - 1:15 PM
Where: 620 Library Place, 1st Floor Conference Room, Evanston, IL 60208 map it
Audience: Faculty/Staff - Student - Public - Post Docs/Docs - Graduate Students
Contact: Program of African Studies 847.491.7323

Group: Program of African Studies
Co-Sponsor: Department of Political Science

Category: Lectures & Meetings
Description:
Come join PAS for our weekly lunch and lecture. Lunch provided by PAS.
Speaker: Maudlyne Ihejirika, Chicago Sun-Times Urban Affairs Reporter and Assistant City Editor
Maudlyne will discuss her new book, Escape From Nigeria: A Memoir of Faith, Love and War.
Book overview: Told by Angelina Nwachukwu Ihejirika to her daughter Maudlyne Ihejirika, a veteran, award-winning Chicago journalist, this is the story of the extraordinary circumstances requiring Angelina, a mother of six young children, to travel alone and on foot for three days to a warfront to secure exit visas allowing her family to leave Nigeria. That was 1969, amidst a civil war that would end in the massacre and starvation of at least 2 million Biafrans. But it was not the first time Angelina risked her life to arrive at the miracle of she and her children being smuggled out of the country on the last flight out of Biafra during that horrific war. Thanks to the efforts and generosity of five white and Jewish American couples who worked to locate the family; involved their churches and synagogues to raise money; leveraged their Congressional contacts; and negotiated with the Biafran government for the family's freedom, Angelina and her children landed in the United States on June 9, 1969, reuniting with husband and father Christopher Ihejirika, then a graduate student at Northwestern University.
Angelina's experience unfolds against the backdrop of the last 33 years of Nigeria's British rule, and the Nigerian Biafran War. At the end of that three-year war, the genocide of millions of Igbos would rank fifth amongst worst crimes against humanity of the 20th century, behind the Jewish holocaust in Germany; the Ukrainian famine in the Soviet Union; the slaughter of Armenians by the Ottoman Empire; and the Khmer Rouge massacre of the Cambodians. The conflict remains historically significant as the first time in history that starvation was used as a weapon of war; and for birthing the humanitarian group known as Doctors Without Borders.
Bio: Maudlyne Ihejirika is a Chicago Sun-Times Urban Affairs Reporter with nearly 30years' experience in newspaper journalism, public relations and government. In 23years with the Sun-Times, she has served as an assistant city editor, covering beats from crime and inner-city issues to housing and education, politics and philanthropy. Joining the Sun-Times in 1987, she was Weekend City Editor when she left in 1997 to work as Gov. Jim Edgar's press secretary for the Illinois Department of Children and Family Services. In 1999, she left state government to launch the Ihejirika Media & Communications Group, managing media operations for members of the U.S. Congress, Illinois Legislature and Chicago City Council. Returning to the Sun-Times in 2003, she has earned numerous citations, including the 2016 Chicago Defender Women of Excellence Award; and in 2015, the Studs Terkel, and the National Association of Black Journalists first-place Salute to Excellence awards. She also earned first-place NABJ awards in 2014 and 2011; the Vernon C. Jarrett Par Excellence in Journalism Award in 2013; and two Society of Professional Journalists Peter Lisagor Awards in 2008. A frequent guest contributor on WTTW-TV's "Chicago Tonight: Week In Review," FOX-32's "Good Day Chicago," and Vocalo Radio's "The Barber Shop Show," she has appeared as a political analyst on CNN, TV One, ABC, and CBS TV; as well as WBEZ, WVON and V103 radio. She is vice president/print of the NABJ-Chicago Chapter and on the board of directors of the Chicago Journalists Association. Other board memberships include the University of Iowa School of Journalism & Mass Communication Professional Advisory Board, and Northwestern University's Council of 100.