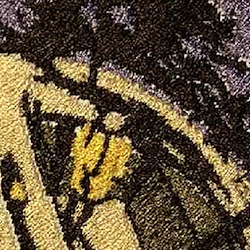 When: Thursday, January 11, 2018
10:00 AM - 10:00 PM
Where: Norris University Center, Dittmar Gallery, 1999 Campus Drive, Evanston, IL 60208 map it
Audience: Faculty/Staff - Student - Public - Post Docs/Docs - Graduate Students
Cost: Free
Contact: Debra Blade 847.491.2348

Group: Dittmar Memorial Gallery
Co-Sponsor(s):
One Book One Northwestern 2018-2019

Category: Fine Arts
Description:
Sabba S. Elahi's Drone Stories reminds us of the drones and crosshairs that loom above us near and far and their causal domestic disturbances at sites of war/conflict. The works consider the relationship between the technology of the state and the intimately private acts of the individual, the unmanned with the womaned.
Elahi's work utilizes hand, machine embroidery, and text to call into question the domestic "war on terror" which began long before 9/11 to target law abiding American Muslims and the more than decade long drone offensive in Pakistan, a program touted for its technological accuracy. Ironically, we are limited in our comprehension of casualities as sources estimate the range of civilian deaths between 424-957 and a total casualty count to be 2,500-4,100 persons. Elahi's commitment to write the unknown critiques the covert status of the operation.
Surveillance at its essence is measured on a physical distance from the object of one's gaze, a way of seeing without recognizing. To this degree, we are never certain how black, brown, and Muslim bodies are being read, and in the end that can be a matter of life and death.