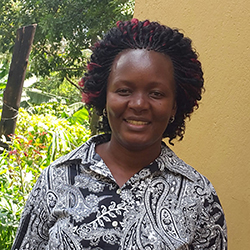 When: Wednesday, February 7, 2018
12:00 PM - 1:15 PM
Where: 620 Library Place, Room 106, Evanston, IL 60208 map it
Audience: - Faculty/Staff - Student - Public - Post Docs/Docs - Graduate Students
Contact: Program of African Studies 847.491.7323

Group: Program of African Studies
Co-Sponsor(s):
International Studies
History Department
Buffett Institute for Global Affairs

Category: Lectures & Meetings
Description:
Join the Program of African Studies for our weekly lunch and lecture.
"Take him and tell him to be circumcised": Moral Order and Respectability in Early Postcolonial Uganda
Pamela Khanakwa, History, Archaeology, and Heritage Studies at Makerere University, Kampala, Uganda (currently visiting scholar, University of Michigan)
Bio
Pamela Khanakwa is a lecturer in the Department of History, Archaeology and Heritage Studies at Makerere University, Kampala, Uganda. She is currently visiting at the African Studies Centre at the University of Michigan, Ann Arbor under the University of Michigan African Presidential Scholarship (UMAPS). At the University of Michigan, she is working on her book project tentatively entitled: "Bagisu Men Don't Cry: Imbalu and the Construction of Masculinities in Uganda".
She received her Ph.D. in History from Northwestern University in Evanston in 2011and worked as a Research Fellow at the Makerere Institute of Social Research at Makerere University before taking up appointment in the Department of History.
Dr. Khanakwa won a postdoctoral fellowship of the American Council of Learned Societies on the African Humanities Program (2013/2014) and an individual grant from the African Peacebuilding Network of the Social Science Research Council in 2015.
She has carried out research in eastern Uganda on masculinities, ethnicity and land struggles. She has contributed a chapter in Doing Conceptual History in Africa (2016) edited by Fleisch and Stephens.
Abstract
This paper explores circumcision controversies in early postcolonial Uganda where several cases of forcible circumcision were reported among the Gisu in the eastern part of the country. In contrast to existing literature that explains the centrality of imbalu (male circumcision) in marking the transition from boyhood to manhood, this paper examines why some "boys" defied the cultural requirement on one hand, and why Gisu "ethnic patriots" enforced it, on the other. First, the paper argues that Gisu elites especially those employed in the civil service rejected imbalu because they considered it irrelevant to their needs and identity in postcolonial Uganda. Through education and employment, they were confident that they had acquired alternative manhood. Secondly, the paper argues that the ethnic patriots pursued and forcibly circumcised defaulters because they wanted to protect the deep rooted cultural institution that defined the Gisu as a moral community. And because they were worried about their numbers and place in Independent Uganda, they deployed forcible circumcision in order to "tribalize" the uncircumcised and promote social discipline, moral order as well as respectability. They feared that deviant actions such as rejecting imbalu threatened the social fabric and existence of the Gisu who were a cultural minority in the multi-ethnic Ugandan nation-state.