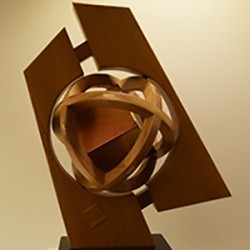 When: Friday, January 4, 2019
9:00 AM - 4:45 PM
Where: NUPOC, 680 North Lake Shore Drive, Suite 1100, Chicago, IL 60611
Audience: - Faculty/Staff - Student - Public - Post Docs/Docs - Graduate Students
Cost: Free
Contact: R. J. Garrick, PhD 312.503.5700

Group: Northwestern University Prosthetics-Orthotics Program (NUPOC)
Category: Fine Arts
Description:
Terrence Karpowicz sculpts dynamic works of oak, cherry, ash and granite nesting in congruent harmony with stainless steel cubes spinning within walnut ellipses. Influenced by the theories and practices of Minimalism and Conceptualism, Karpowicz expresses in sculpture the interactions of wind, water, sunlight, and gravity on natural materials.
His work is defined by tension at the point of contact and the act of creating this tension. By joining irregular, organic materials to machine-tooled geometric shapes, he creates sculptures with actual or implied kinetic relationships among the elements and between the sculpture and its environment. The sculptor's life and his relationship with the world are defined through the interaction of disparate materials.
Awarded a Fulbright-Hayes scholarship to the United Kingdom, Karpowicz was apprentice to the sole millwright for the government's Society for the Protection of Ancient Buildings. There he learned the ancient techniques and craftsmanship of watermill and windmill construction and preservation. These experiences helped to root Karpowicz's aesthetic in craftsmanship while expressing the sublime nature of minimal forms.