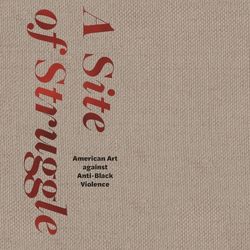 When: Wednesday, July 6, 2022
12:00 PM - 8:00 PM Central
Where: Block Museum of Art, Mary and Leigh, 40 Arts Circle Drive, Evanston, IL 60208 map it
Cost: Free and Open to All
Contact: Lindsay Bosch

Group: Block Museum Exhibitions
Category: Fine Arts
Description:
How has art been used to protest, process, mourn, and memorialize anti-Black violence within the United States?

Originating at Northwestern's Block Museum of Art  A Site of Struggle explores how artists have engaged with the reality of anti-Black violence and its accompanying challenges of representation in the United States over a 100 + year period.
Images of African American suffering and death have constituted an enduring part of the nation's cultural landscape, and the development of creative counterpoints to these images has been an ongoing concern for American artists. A Site of Struggle takes a new approach to looking at the intersection of race, violence, and art by investigating the varied strategies American artists have used to grapple with anti-Black violence, ranging from representation to abstraction and from literal to metaphorical. The exhibition focuses on works created between the 1890s and 2013—situating contemporary artistic practice within a longer history of American art and visual culture. It foregrounds African Americans as active shapers of visual culture and highlights how art has been used to protest, process, mourn, and memorialize anti-Black violence.

Exhibition Frequently Asked Questions
 
 
Exhibition Advisors and Partnerships
The themes, content, and format of A Site of Struggle have been developed in consultation with an interdisciplinary group of established and emerging scholars, museum professionals, and Northwestern faculty and graduate students. Participants are connected by their investigations of American art, visual culture, and African Americans' production and representation within these fields.
Advised by leaders across Northwestern and within the Evanston community, The Block has engaged in dialogues with stakeholders that will continue throughout 2021 in order to shape visitor experience and co-develop collaborative programming on issues of racial justice. This work will enrich A Site of Struggle programming and will lay a foundation for our work into the future.
The Block Museum exhibition will tour to the Montgomery Museum of Fine Arts, Montgomery, Alabama August 13- November 6, 2022
CREDITS
A Site of Struggle is organized by the Mary and Leigh Block Museum of Art, Northwestern University, and is curated by Janet Dees, Steven and Lisa Munster Tananbaum Curator of Modern and Contemporary Art at The Block Museum of Art, with the assistance of Alisa Swindell, Curatorial Research Associate.
Lead support for the exhibition is generously provided by the Terra Foundation for American Art. Major support is provided by The Andy Warhol Foundation for the Visual Arts. The project is also supported in part by an award from the National Endowment for the Arts, the Bernstein Family Contemporary Art Fund, the Myers Foundations, the Block DEAI Fund, and the Block Board of Advisors. Generous support is contributed by William Spiegel and Lisa Kadin, the Alumnae of Northwestern University, the David C. and Sarajean Ruttenberg Arts Foundation, the Elizabeth F. Cheney Foundation, and by Lynne Jacobs. The related publication is co-published by The Block Museum of Art and Princeton University Press and is supported by Furthermore: a program of the J.M. Kaplan Fund and the Sandra L. Riggs Publication Fund.