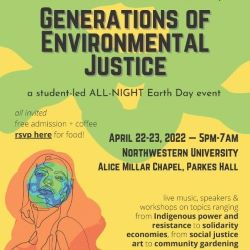 When: Friday, April 22, 2022
5:00 PM - 11:45 PM Central
Where: Alice Millar Chapel, and Parkes Hall, 1870 Sheridan Road, Evanston, IL 60208 map it
Contact: EPC

Group: Environmental Policy and Culture
Category: Global & Civic Engagement, Social, Lectures & Meetings
Description:
A student led ALL-NIGHT Earth Day event
Generations of Environmental Justice is an all-night Earth Day "teach-out" hosting a variety of presentations and workshops from individuals and organizations at the heart of the current environmental justice movement. All are invited to join, participate, and lend their own lived experience and perspective to this effort. 
Action is a core focus of the night. Inspired by Project Survival, a precursor event to the original Earth Day organized by Northwestern students in January 1970, Generations of Environmental Justice will serve as a catalyst for action on dire matters of the climate crisis, with a specific focus on community-based projects that we collectively identify as moving us towards our visions of a transformed world.
Event details:  
Date & Time: 5pm, April 22nd - 7am, April 23rd, 2022
Location: Alice Millar Chapel and Parkes Hall, Northwestern University 
Agenda: 

5-5:30pm:  Mingling time
5:30-7:00: Keynote Speakers in Alice Millar Chapel
7:00: Dinner
7pm-12am: Workshops sessions around Parkes Hall 
12am: Midnight snack 
12am-6am: Visioning, discussion, project work time
6-7am: Sunrise ceremony
All are invited; come when you can, leave when you need to! Bring a notebook, a cozy blanket, and a friend, and get ready to buckle down and turn the greatest crisis of our times into an opportunity for radical transformation.