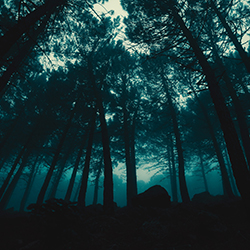 When: Thursday, November 17, 2022
7:30 PM - 9:30 PM Central
Where: Patrick G. and Shirley W. Ryan Center for the Musical Arts, Ryan Opera Theater, 70 Arts Circle, Evanston, IL 60208 map it
Cost: Tickets are $18 for the general public and $8 for students with valid ID.
Contact: Concert Management Office (847) 467-4000

Group: Bienen School of Music Concerts and Events
Category: Fine Arts
Description:
Joachim Schamberger, director
Alan Pierson, conductor
Contemporary Music Ensemble
Northwestern University Opera Theater and the Contemporary Music Ensemble present two compelling and thought-provoking works: Christopher Cerrone and Stephanie Fleischmann's In a Grove, together with François Sarhan's Hands.
Hands, a title referring to both the subject of the piece and the physicality of its performance, is a set of short musical-theatrical works based on true stories from within the last century of US history. Through the lens of immigrants, families, and children often overlooked by mainstream society, Hands explores how our hands represent our roles in the world around us. 
The Wall Street Journal praised the Pittsburgh Opera's February premiere of Christopher Cerrone's In a Grove as "alluring and dramatically hypnotic." With a libretto by Stephanie Fleischmann, based on the short story by Ryūnosuke Akutagawa, the opera is set in 1921 in a ghost forest in the Oregon mountains. Seven witnesses—some of them suspects—provide testimony about events that transpired in a mountain grove, where an aspiring botanist goes missing and her new husband, a schoolteacher, appears to have been murdered. But all is not as it seems, and each new revelation in this suspenseful tale draws the audience deeper into an examination of the subjective nature of truth and the human experience. 
Content warning: In a Grove contains material that may be distressing to viewers, including sexual assault, physical violence, firearms, gunshot sound effects, strobe lights, self-harm, fog, and upsetting topics.