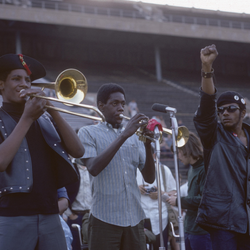 When: Thursday, March 16, 2023
12:00 PM - 8:00 PM CT
Where: Block Museum of Art, Mary and Leigh, 40 Arts Circle Drive, Evanston, IL 60208 map it
Cost: Free and open to all.
Contact: Lindsay Bosch

Group: Block Museum Exhibitions
Category: Fine Arts
Description:
The Living Image of Sound: Notes on Jazz and Protest at Northwestern is a concise exhibition exploring the intersections of visual art, music, and student-led social justice movements during the late 1960s and early 1970s. The exhibition features artwork and ephemera related to the trailblazing poet and musician Sun Ra and The Arkestra jazz ensemble, including a painting by the musician and visual artist Ayé Aton.
The Arkestra's practice is put into conversation with photographs of music venues across Chicago by Ted Williams, Mikki Ferrill, and Ronald L. Freeman, as well as images of and by Northwestern University students, reflecting a dynamic network of musicians, artists, listeners, and activists. The students—some of whom would eventually share a stage with Sun Ra himself—took up the mantle of artmaking and activism in response to local and global crises on and beyond their campuses from anti-Black racism to the Vietnam War.
Collective action manifested through the efforts of such organizations as For Members Only (FMO) and the Associated Student Government (ASG), as well as such groups as the student band The Life and Death Situation and the Amazingrace collective. Like the jazz ensembles that enlivened and enlightened venues across the nation, students let their voices and instruments be heard, both on the streets—participating in such actions as the Bursar's office takeover in 1968 and the anti-war demonstrations of 1970—and onstage at venues like the Amazingrace Coffeehouse. The exhibition traces a history of collective acts by musicians, artists, students, and activists to engage in creativity, community, care, and collaboration during times of social and political crisis.
The Living Image of Sound: Notes on Jazz and Protest at Northwestern is curated by Ashleigh Deosaran, 2022–23 Block Curatorial Graduate Fellow, in consultation with Corinne Granof, Academic Curator. It is generously supported by the Illinois Arts Council Agency and The Graduate School, Northwestern University. Additional in-kind support is provided by Northwestern University Libraries.
Back to Top