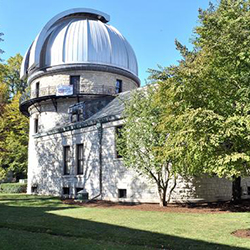 When: Friday, September 28, 2018
9:00 PM - 11:00 PM
Where: Dearborn Observatory, Room 23, 2131 Tech Drive, Evanston, IL 60208 map it
Audience: Faculty/Staff - Student - Public - Post Docs/Docs - Graduate Students
Contact: Gretchen Oehlschlager 847.467.1338

Group: CIERA - Conferences/Collab Meetings
Category: Lectures & Meetings
Description:
CIERA Astronomer Evenings are special programs that take place on the last Friday of every month at Northwestern's Dearborn Observatory.
Look through the historic telescope and meet and talk with astronomers from CIERA, Northwestern's Center for Interdisciplinary Exploration and Research in Astrophysics!
Each month, different experts will be available to answer your astronomy and astrophysics questions. These evenings begin with a 10-minute introduction to a topic in astronomy, followed by an open Q&A session and fun, interactive demonstrations.
The talks are free and open to all!
CIERA graduate students Alex Gurvich and Eve Chase will host this month's event. They will present their research related to galaxies and black holes. They invite guests to ask them any and all of their pressing astronomy questions!

Alex learns how galaxies grow and evolve over time by running supercomputer simulations that trace their lives from just after the Big Bang today. He will talk about the different sorts of galaxies that we see in the universe and why they all look different, even if they grow out of the same stuff.

Eve studies gravitational waves, ripples in the fabric of spacetime caused by merging black holes and neutron stars millions of light years away. She will present an overview of recent gravitational wave detections and discuss new understandings of the universe emanating from these discoveries.