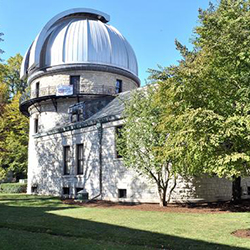 When: Friday, October 26, 2018
8:00 PM - 10:00 PM
Where: Dearborn Observatory, Room 23, 2131 Tech Drive, Evanston, IL 60208 map it
Audience: Faculty/Staff - Student - Public - Post Docs/Docs - Graduate Students
Contact: Gretchen Oehlschlager 847.467.1338

Group: CIERA - Conferences/Collab Meetings
Category: Lectures & Meetings
Description:
Join CIERA graduate student astronomers for a discussion of gravitational waves and black holes. Our astronomers will briefly present their own research and invite guests to ask them any and all of their pressing astronomy questions!
Gravitational waves are ripples in the fabric of spacetime, which can emanate from merging black holes and neutron stars billions of light years away. We'll discuss two different instruments used to detect gravitational waves. The LIGO detectors, located in Washington and Louisiana, have already made six detections of gravitational wave events and are currently undergoing refurbishments in preparation for a year-long search for more astrophysical signals.
***
CIERA Astronomer Evenings are special programs that take place on the last Friday of every month at Northwestern's Dearborn Observatory.
Look through the historic telescope and meet and talk with astronomers from CIERA, Northwestern's Center for Interdisciplinary Exploration and Research in Astrophysics!
Each month, different experts will be available to answer your astronomy and astrophysics questions. These evenings begin with a 10-minute introduction to a topic in astronomy, followed by an open Q&A session and fun, interactive demonstrations.
The talks are free and open to all!