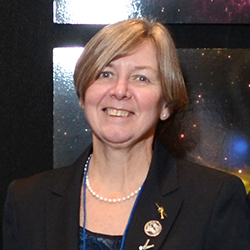 When: Thursday, March 22, 2018
11:00 AM - 12:00 PM
Where: Technological Institute, F160, 2145 Sheridan Road, Evanston, IL 60208 map it
Audience: Faculty/Staff - Student - Public - Post Docs/Docs - Graduate Students
Cost: Free
Contact: Gretchen Oehlschlager 847.467.1338

Group: CIERA - Conferences/Collab Meetings
Category: Lectures & Meetings
Description:
Free and open to the public. No registration or ticket required.

Northwestern University's Center for Interdisciplinary Exploration and Research in Astrophysics (CIERA) Presents: a CIERA Interdisciplinary Colloquium

Dr. Belinda Wilkes
Director, Chandra X-ray Center
Senior Astrophysicist, Smithsonian Astrophysical Observatory

Hosts: Fred Rasio, Raffaella Margutti, and Wen-fai Fong
Talk Title:
Revealing the Invisible Universe

Talk Abstract:
Almost two decades of observations from the first major X-ray Observatories, launched by NASA and ESA in 1999, have revolutionized our knowledge of the X-ray Universe. X-ray data is being utilized by a large fraction of the astronomical community and has transitioned into the mainstream of astronomical research. The science and discoveries of these two great observatories has been significantly enhanced by smaller missions which complement and broaden the observing opportunities worldwide. I will review some of the major discoveries and breakthroughs in our understanding of celestial sources resulting from X-ray observations with the exquisite (~0.5 arcsec) spatial resolution of NASA's Chandra X-ray Observatory, one of NASA's fleet of Great Observatories.
X-ray Observatories enable us to see the otherwise invisible. However broad progress relies on multi-wavelength, and recently multi-messenger, data which reveal multiple aspects of celestial sources. Our current space observatories will continue to operate for 5-10 more years, but to continue our quest to understand more about our Universe, we need to make plans for maintaining our multi-wavelength view. I will close with a look towards X-ray astronomy beyond Chandra.