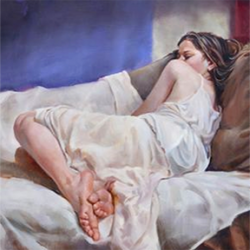 When: Friday, August 10, 2018
9:00 AM - 4:45 PM
Where: NUPOC, Suite 1100, 680 North Lake Shore Drive, Chicago, IL 60611
Audience: Faculty/Staff - Student - Public - Post Docs/Docs - Graduate Students
Cost: No fee
Contact: R. J. Garrick, PhD 312.503.5700

Group: Northwestern University Prosthetics-Orthotics Program (NUPOC)
Category: Fine Arts
Description:
At NUPOC, science, technology and art intersect. In recognition of the artistry that is vital to prosthetics and orthotics, NUPOC is delighted to announce the installation of 7 realistic figure paintings in oil and watercolor. 
Mr. Delsol interprets human figures in a narrative context, capturing his subjects' features, mood and character. He uses color and light to transform the human figure into a nearly palpable, sentient person. He is a member of the Portrait Society of America and the Oil Painters of America (OPA), and an awardee of the National Oil & Acrylic Painters' Society. Mr. Delsol is an instructor and member of the Board of Directors at the Palette and Chisel (Chicago). Mr. Delsol supports the development of other artists, monitoring open studios and offering guidance. 
NUPOC appreciates the assistance of the Palette and Chisel.