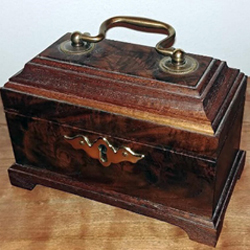 When: Friday, February 14, 2020
9:30 AM - 4:45 PM
Where: 680 North Lake Shore Drive, Suite 1100, Chicago, IL 60611
Audience: Faculty/Staff - Student - Public - Post Docs/Docs - Graduate Students
Cost: Free
Contact: R. J. Garrick, PhD 312.503.5700

Group: Northwestern University Prosthetics-Orthotics Program (NUPOC)
Category: Fine Arts
Description:
At NUPOC, science, technology and art intersect. In recognition of the artistry that is vital to prosthetics and orthotics, NUPOC is delighted to announce the installation of The World of Wood, an exhibit of hand-crafted furniture and objects d'art by Jay Hoskins. Simultaneously functional and decorative, each of the 15 pieces radiate an organic warmth.
A hybrid woodworker, Hoskins uses table saws and jointers to prepare the lumber to size; and he uses planes and chisels to join and finish his pieces. For contrast, he uses multiple wood species and incorporates them into hand-worked veneers. Hoskins' work is influenced by the designs of Frank Lloyd Wright and David J. Marks. Visually and tactilely engaging, Hoskins' elegant works appeal to both modern and traditional sensibilities. 
Hoskins learned carpentry from his father and together they built houses in northern Illinois communities. With income from his carpentry, Hoskins paid his way through college, and subsequently launched a successful career in industrial automation and computer technology. Throughout four decades of a high-paced professional life in technology, woodworking grew increasingly significant, offering a hands-on, unhurried contrast to the digital world.