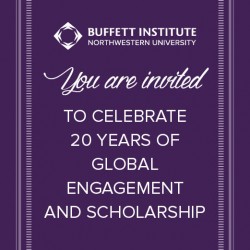 When: Friday, May 15, 2015
All day
Where: Scott Hall, Guild Lounge, 601 University Place, Evanston, IL 60208 map it
Audience: Faculty/Staff - Student - Public - Post Docs/Docs - Graduate Students
Contact: Jeff Cernucan 847.467.2770

Group: Buffett Institute for Global Studies
Category: Lectures & Meetings
Description:
For our 20th anniversary event, 3 keynote speakers will offer expert insights in global finance, global health, and international human rights.
Full Schedule:
9:30am–10:30AM » Breakfast served with opening remarks from Buffett Institute Director Bruce Carruthers and Jay Walsh, Vice President for Research
10:35am–12pm »
"Global Finance: A Legal Arms Race" [Facebook Event Link]
Katharina Pistor, Columbia University Law School
With Panel Response and Q&A moderated by Steve Nelson, Assistant Professor of Political Science; Paola Sapienza, Professor of Finance
Katharina Pistor is Michael I. Sovern Professor of Law at Columbia Law School and director of its Center on Global Legal Transformation. Her research focuses on comparative law and institutions with emphasis on emerging markets, the legal construction of financial markets, governing essential resources, and the distributional effects of private regulation. In 2012 she was co-recipient of the Max Planck Research Award on International Financial Regulation.
12pm–1pm » Lunch served
1:05pm–2:30pm »
"Governing Humanity: How Much is Too Much?" [Facebook Event Link]
Michael Barnett, George Washington University
With Panel Response and Q&A moderated by Karen Alter, Professor of Political Science and Law; John Hagan, Professor of Sociology
Michael Barnett is Professor of International Affairs and Political Science at the Elliott School of International Affairs. Currently, he is an Associate Editor of International Organization. He is spending 2014-15 at the Transantlatic Academy working on a project on religion and the liberal international order. Barnett is a member of the Council on Foreign Relations and the recipient of many grants and awards for his research.
2:30pm–2:45pm » Coffee break
2:50pm–4:15pm »
"From AIDS to Ebola: What Have We Learned?" [Facebook Event Link]
Laurie Garrett, Council on Foreign Relations
With Panel Response and Q&A moderated by Helen Tilley, Associate Professor of History; Michael Diamond, Lecturer in Global Health Studies; Victor Roy, WCAS '07 FSM
Laurie Garrett is one of America's leading commentators on global health issues. She is the only person to win the three P's of journalism: The Pulitzer Prize, the Peabody Award, and the Polk Award. She is a Senior Fellow for Global Health at the Council on Foreign Relations, and is the bestselling author of The Coming Plague, Betrayal of Trust. She has written for Foreign Affairs, Esquire, and The Washington Post, and is a frequent guest on TV news programs. Garrett also served as a script consultant on Contagion, and is a former president and now member of the National Association of Science Writers.
4:30pm–5:10pm » Closing panel with all 3 keynote speakers, moderated by Buffett Institute Director Bruce Carruthers
5:15pm » Reception