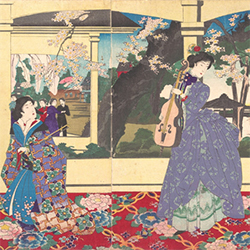 When: Friday, March 4, 2016
12:00 PM - 1:00 PM
Where: 1902 Sheridan Road, Evanston, IL 60208 map it
Audience: Faculty/Staff - Student - Public - Post Docs/Docs - Graduate Students
Contact: Jeff Cernucan 847.467.2770

Group: Buffett Institute for Global Studies
Category: Lectures & Meetings
Description:
Cultural histories of Europe of the late 19th and early 20th centuries almost universally describe japonisme as an exoticizing, aestheticizing "trend" or "wave," a fashionable variant of Orientalism necessarily built upon a solid ignorance of contemporary Japanese realities. Christopher Bush attempts to upend this conventional wisdom by revisiting aesthetic japonisme in the context of contemporaneous claims about Japan as the first non-Western modernity.
Christopher Bush is an associate professor of French and comparative literary studies. His research and teaching focus on transnational and interdisciplinary approaches to literary modernisms, especially the interactions between Euro-American and East Asian aesthetic theory, avant-gardes, and media. Past honors include a Fulbright research grant, the Bernheimer Memorial Prize for Outstanding Dissertation in Comparative Literature, the Cotsen-Behrman Fellowship in the Princeton Society of Fellows, the Aldo and Jeanne Scaglione Prize for a Translation of a Literary Work, and a Mellon New Directions Fellowship.
This is part of the Buffett Institute Faculty & Fellows Colloquium.