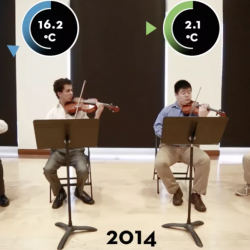 When: Tuesday, February 9, 2016
7:00 PM - 9:00 PM
Where: Lutkin Memorial Hall, 700 University Place, Evanston, IL 60208 map it
Audience: Faculty/Staff - Student - Public - Post Docs/Docs - Graduate Students
Contact: Jeff Cernucan 847.467.2770

Group: Buffett Institute for Global Studies
Category: Fine Arts
Description:
Daniel Crawford and Scott St. George from the University of Minnesota report on a collaboration between scientists and artists that uses music to transmit the evidence of climate change in an engaging and visceral way.
A well-designed graphic can help audiences to quickly understand the main message embedded within a complex set of climate data and to retain those ideas longer than they would have if they were conveyed by words alone. But the visual aids used regularly by climate scientists also have their limitations: they are most easily understood by people who are already fluent in technical illustrations; they are usually static and sometimes do not tell an obvious story; and for many audiences they do not elicit a strong emotional response.
Music, by contrast, is inherently narrative, with each note or phrase building upon those that came before, and is known to exert a powerful influence on human emotions. Because of these characteristics, sonification — the transformation of data into acoustic signals — may have considerable promise as a tool to enhance the communication of climate science.
Join us for a string quartet performance and panel about climate change.
Panel
Daniel Crawford, Institute of Environment (University of Minnesota): Dan is an environmental geographer and musician who uses sonification to enhance the communication of climate science. His 'climate-music' compositions have been featured by The New York Times, National Public Radio, Scientific American, io9, and other national and international media platforms. 
Scott St. George, Institute of Environment (University of Minnesota): Dr. Scott St. George is Associate Professor of Geography, Environment and Society at the University of Minnesota, and Resident Fellow in the University of Minnesota's Institute on the Environment. As an earth scientist trained in paleoclimatology, Scott uses evidence preserved in tree rings and other natural archives to understand how and why our environment has changed during the last several hundred or thousands of years. By extending our perspective beyond the most recent century, his research provides a long-term benchmark to test ideas about the underlying causes of environmental change and the likely future trajectories of critical environmental systems, particularly those aspects related to forests, climate change, and surface hydrology.
Brad Sageman, co-director of ISEN, chair of earth and planetary sciences: Brad is an earth scientist with research interests in carbon cycling, climate change, and sustainable energy. His research, which has its foundation in understanding the relationship between geologic time and the accumulation of sedimentary rocks, is relevant to both the exploration and production of hydrocarbons (especially shale gas, a critical transition fuel to a low-carbon future), as well as the role of the carbon cycle as a natural source and sink of CO2 to the atmosphere.
Miranda Cawley, undergraduate student, journalism/environment science: Miranda is a senior at Northwestern majoring in journalism and environmental science. She uses media to educate about food, water, and our relationship with the environment.