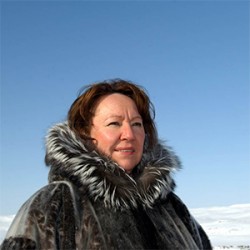 When: Monday, March 7, 2016
7:00 PM - 8:30 PM
Where: McCormick Foundation Center, Tribune Forum, 1870 Campus Drive, Evanston, IL 60208 map it
Audience: Faculty/Staff - Student - Public - Post Docs/Docs - Graduate Students
Contact: Jeff Cernucan 847.467.2770

Group: Buffett Institute for Global Studies
Co-Sponsor(s):
ISEN private

Category: Global & Civic Engagement
Description:
Sheila Watt-Cloutier's talk will go beyond science and politics to bring a holistic understanding of the significance of the Arctic's environment and Inuit culture. We often hear about the melting ice and challenged wildlife, however, it is the human story about communities and the journey through rapid social, cultural and environment change that will help lead us towards better understanding of long-term sustainability. Her pioneering global work on connecting climate change and human rights will also reinforce the fact that everything is connected and we are indeed a shared humanity.
Sheila Watt-Cloutier is one of the world's most recognized environmental and human rights advocates. Experienced in working with global decisionmakers for over a decade, Watt-Cloutier offers a new model for 21st century leadership. She treats the issues of our day—the environment, the economy, foreign policy, global health, and sustainability—not as separate concerns, but as a deeply interconnected whole.
In 2007, Watt-Cloutier was nominated for the Nobel Peace Prize for her advocacy work in showing the impact global climate change has on human rights, especially in the Arctic, where it is felt more immediately and more dramatically than anywhere else in the world. In addition to her Nobel nomination, Watt-Cloutier has been awarded the Aboriginal Achievement Award, the UN Champion of the Earth Award, and the prestigious Norwegian Sophie Prize. She is also an officer of the Order of Canada. 
Co-sponsored by: One Book, One Northwestern • ISEN