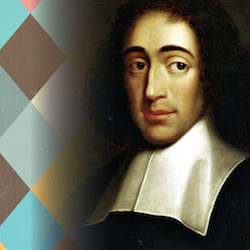 When: Tuesday, June 7, 2016
5:00 PM - 6:30 PM Central
Where: Segal Visitors Center, auditorium, 1841 Sheridan Rd, Evanston, IL 60208 map it
Audience: Faculty/Staff - Student - Public - Post Docs/Docs - Graduate Students
Contact: Nancy Gelman 847.491.2612

Group: The Crown Family Center for Jewish and Israel Studies
Co-Sponsor: Philosophy Co-Sponsored Events
Religious Studies Department

Category: Lectures & Meetings
Description:
The Crown Family Center for Jewish and Israel Studies presents:
Manfred H. Vogel Lecture in Judaic Studies
Spinoza - "The Renegade Jew Who Gave Us Modernity"
Rebecca Newberger Goldstein
Award-winning novelist and philosopher
Rebecca Newberger Goldstein is an American philosopher who is also a novelist and public intellectual. She is the author of ten books, many of which cross the divide between fiction and non-fiction. Her latest book is Plato at the Googleplex: Why Philosophy Won't Go Away. Other books include 36 Arguments for the Existence of God: A Work of Fiction, Betraying Spinoza:The Renegade Jew Who Gave Us Modernity, and The Mind-Body Problem. She is the recipient of numerous awards for both her scholarship and fiction, including a MacArthur fellowship. She was named Humanist of the Year by the American Humanist Association in 2011, and, in 2015, was awarded the National Humanities Medal by President Obama in a ceremony at the White House. She is currently a Visiting Professor of Philosophy and English at NYU, as well as a Visiting Professor of Philosophy at the New College of the Humanities, London, UK. 
Co-sponsored by: The Crown Family Center for Jewish and Israel Studies, Northwestern Office of the President, Weinberg College, Department of English, Department of Philosophy, Department of Religious Studies and the Writing Program