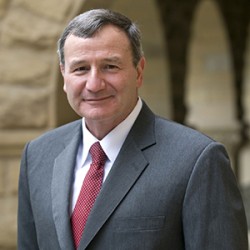 When: Tuesday, May 31, 2016
4:00 PM - 6:00 PM
Where: McCormick Foundation Center, 1870 Campus Drive, Evanston, IL 60208 map it
Audience: Faculty/Staff - Student - Public - Post Docs/Docs - Graduate Students
Contact: Jeff Cernucan 847.467.2770

Group: Buffett Institute for Global Studies
Category: Global & Civic Engagement
Description:
It has been more than four decades since the end of conscription and the establishment of an all-volunteer force in the United States. While the capabilities of America's military are unrivaled today, there are signs that the all-volunteer force model is under stress, including huge personnel costs, repetitive combat deployments, and isolation from the citizens that the armed forces are entrusted to serve and protect. Ambassador Karl Eikenberry will discuss the political, economic, and foreign policy challenges faced by the United States in deciding the organizing principles for its military.
Karl Eikenberry is the Oksenberg-Rohlen Distinguished Fellow and Director of the US-Asia Security Initiative at Stanford University's Asia-Pacific Research Center, and a Stanford University Professor of Practice. He served as the US Ambassador to Afghanistan from May 2009 until July 2011 and had a 35-year career in the United States Army, retiring with the rank of lieutenant general.
He is a graduate of the US Military Academy, earned a master's degrees from Harvard University in East Asian studies and Stanford University in political science, was awarded an interpreter's certificate in Mandarin Chinese from the British Foreign and Commonwealth Office, and has an advanced degree in Chinese history from Nanjing University. He is also the recipient of the George F. Kennan Award for Distinguished Public Service and Harvard University Graduate School of Arts and Sciences Centennial Medal.
Ambassador Eikenberry is a fellow of the American Academy of Arts and Sciences, and is a board member of The Asia Foundation and council member of the International Institute for Strategic Studies. His articles and essays on US and international security issues have appeared in Foreign Affairs, Washington Quarterly, American Foreign Policy Interests, American Interest, The New York Times, Washington Post, Foreign Policy, and Financial Times.
This event is open to the public and in recognition of Military Appreciation Month. Directions to the McCormick Foundation Center.