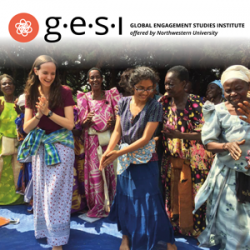 When: Monday, November 14, 2016
5:30 PM - 6:30 PM
Where: 1902 Sheridan Road, Buffett Institute, Evanston, IL 60208 map it
Audience: Faculty/Staff - Student - Public
Contact: Jessica Smith 847.467.5759

Group: Global Engagement Studies Institute (GESI)
Co-Sponsor(s):
International Education Week

Category: Global & Civic Engagement
Description:
Interested in studying abroad? Come learn about the Global Engagement Studies Institute (GESI), a study abroad program run by the Buffett Institute for Global Studies.
Info sessions are 1 hour long, include snacks, and are located at the Buffett Institute for Global Studies, 1902 Sheridan Road, Evanston.
Subscribe to our email list to get biweekly updates!
The GESI Program offers:
• Locations in Bolivia, the Dominican Republic, Ghana, Guatemala, India, Kenya, Nicaragua, or Uganda
• Summer or fall option
• Generous need based funding available
• Homestay experience
• Open to all majors and all class standing,; seniors can participate the summer immediately following graduation
• Professional experience through internships with grassroots organizations, addressing issues such as public health, education, women's empowerment, and the environment.
Visit the GESI website to learn more!