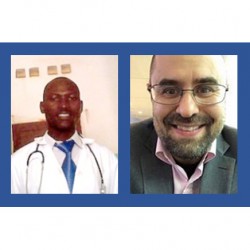 When: Wednesday, January 11, 2017
12:00 PM - 1:15 PM
Where: 620 Library Place, 1st Floor Conference Room, Evanston, IL 60208 map it
Audience: Faculty/Staff - Student - Public - Post Docs/Docs - Graduate Students
Contact: Program of African Studies 847.491.7323

Group: Program of African Studies
Category: Lectures & Meetings
Description:
Come join PAS for our weekly lunch and lecture. Lunch provided by PAS.
Speakers:
Olanya Denish, CO (Clinical Officer)
Executive Secretary of the Northern Uganda Medical Mission
Pader, Uganda
James R. Walker, PhD, RN
Co-founder and Director of Grants and Fundraising for the Asteroidea Health Alliance
Adjunct Professor of Philosophy and Peace, Justice and Conflict Studies, DePaul University
Chicago, IL
Title: Peace and Healing: Community-Based Health Care in Northern Uganda
Abstract: Join us for a round-table discussion on the work being done by a group of Ugandan clinicians to meet the health care needs of their community in northern Uganda. Olanya Denish, clinician and co-founder of the Northern Uganda Medical Mission, will be speaking along with Dr. James Walker of DePaul University and the Asteroidea Health Alliance. Denish will discuss his experiences, both as a child growing up in the midst of the northern Ugandan civil war and also as a clinician attempting to rebuild his home community in the wake of that war. Denish, together with a small group of other Ugandan clinicians, have undertaken the project of building their district's first ever hospital and currently operate a clinic in northern Uganda.
Bios:
Olanya Denish graduated in 2012 as a clinician with a diploma in clinical medicine and public health from the Gulu School of Clinical Medicine. He was born in the village of Kalongo, in the Agago District of Uganda. He set his sight on medicine at the age of eight when his mother passed away during childbirth. As a result, he is extremely passionate about reducing the high child and mother mortality rates in Uganda and hopes to one day specialize in gynecology. Denish is co-founder and a board member for the Northern Uganda Medical Mission which runs the NUMEM Health Center in Pader, northern Uganda. NUMEM is currently working on plans to build their district's first hospital. Denish is currently in his second year of medical school at Kampala International University.
James Walker received his PhD in philosophy from the University at Albany in 2004 and spent over a decade teaching philosophy at the university level. His research interests included ethical issues of war and non-violent means of achieving and maintaining peace, particularly in east and central Africa. He also worked on issues concerning the nature and problems of aid and development in these regions, emphasizing the need for grassroots efforts that empower local communities. In 2011, Walker returned to school and received his associates in nursing from Hudson Valley Community College in 2013 and became licensed as a Registered Nurse that same year. Walker worked as a grant writer and a member of the board of directors for a small NGO in the south of Uganda from 2010-2013. He then co-founded the Asteroidea Health Alliance in 2015 based upon his growing commitment to finding ways to promote the health of local communities in east and central Africa in a manner that does not continue the classical NGO model of maintaining power and control in organizations external to those communities, but rather works in a way where it is individuals and groups from those very communities that are in-charge of the programs and initiatives. Walker currently teaches in the Department of Philosophy and in the Peace, Justice, and Conflict Studies Program at DePaul University in Chicago. His current research focus is on how to decolonize the Western approach to, and narratives of, conflict, peace building, and NGO work in east and central Africa. Walker has traveled to Uganda on several occasions, as well as to Rwanda, and has worked closely with the local population on developing health care related programs and services.