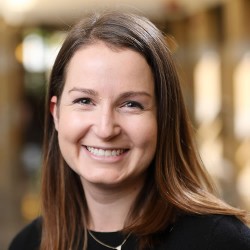 When: Wednesday, February 22, 2017
12:00 PM - 1:15 PM
Where: 620 Library Place, 1st Floor Conference Room, Evanston, IL 60208 map it
Audience: Faculty/Staff - Student - Public - Post Docs/Docs - Graduate Students
Contact: Program of African Studies 847.491.7323

Group: Program of African Studies
Category: Lectures & Meetings
Description:
Come join PAS for our weekly lunch and lecture. Lunch provided by PAS.
Speaker: Lauren Honig, Postdoctoral Research Fellow, Kellogg Institute, University of Notre Dame
Title: Selecting the State or Choosing the Chief? The Political Determinants of Smallholder Titling in Zambia and Senegal
Abstract: Land titling has important developmental consequences, but it is not equally desirable or efficient among all smallholder farmers, even within the same communities. Instead, customary institutions shape who benefits from titling—and who resists. Within Sub-Saharan Africa, customary institutions regulate untitled land and play an important role in the daily lives of smallholder farmers. This manuscript examines who titles and why with attention to the individual's status within the customary institution. Analysis of one new and one established geocoded smallholder survey in Senegal and Zambia indicates that, independent of ethnicity, wealth, and land values, households with greater customary privilege are less likely to title their land. Such individuals are slow to exit the customary system of property rights in order to continue benefiting from high status within the institution. I find support for this mechanism in measures of increased tenure security for those with customary privilege. These findings update the dominant wisdom that land markets and economic efficiency drive smallholder land titling, demonstrating the important effect of status within the customary institution on the decision to title. This contributes to the continuing debate on the efficiency of land titling, in the current era of high demand for African agricultural land. It suggests that smallholders with low customary privilege benefit the most from titling.
Bio: Lauren Honig (PhD, Cornell University), a visiting fellow at the Kellogg Institute at the University of Notre Dame for the 2016–17 academic year, conducts research on the political economy of development and comparative politics in sub-Saharan Africa. Her research interests include state building, property rights, natural resource governance, and plural systems of local authority.
Within the field of Comparative Politics, her primary research interests are state-building and the political economy of development, with a regional focus on Sub-Saharan Africa. Several of her current research projects examine the political determinants of land policy and property rights. This includes her dissertation on the impact of customary authority on the development of mixed property rights institutions in West and Southern Africa. Dissertation fieldwork in Zambia and Senegal was supported by grants from the National Science Foundation (NSF), Social Science Research Council (SSRC), and Fulbright-IIE.
In addition to field experience in Zambia (2012, 2013, 2014) and Senegal (2011, 2014), she has worked and conducted research in Madagascar (2006) and Burkina Faso (2016), where she was a Peace Corps Volunteer from 2007-2009. She is a Northwestern University alum, 2007 with a B.A. in Political Science and International Studies.