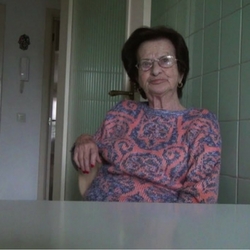 When: Thursday, April 13, 2017
7:00 PM - 9:00 PM Central
Where: Block Museum of Art, Mary and Leigh, 40 Arts Circle Drive, Evanston, IL 60208 map it
Audience: Faculty/Staff - Student - Public - Post Docs/Docs - Graduate Students
Cost: Free and open to all.
Contact: Block Museum of Art (847) 491-4000

Group: Block Museum of Art
Category: Fine Arts
Description:
No Home Movie
(Chantal Akerman, 2015, Belgium, 115 minutes)
with
Saute ma ville
(Chantal Akerman, 1968, Belgium, 13 minutes)
In both her fiction films and her documentaries, Chantal Akerman was known for combining a detached formal rigor and subjects that were personal, intimate, and emotionally-charged. The most striking confluence of these two traits is No Home Movie, her final film and a portrait of her mother Natalia, an Auschwitz survivor. The film is a series of conversations between mother and daughter, filmed in the months before Natalia's death in 2014 and completed not long before Akerman's own suicide in 2015. The film was shot on consumer-grade digital video cameras and on a BlackBerry, providing an intimacy openness, and casualness to the footage; but Akerman's formal play is not far off (the film is broken in half, for example, by an extended landscape sequence).
Saute ma ville, or Blow Up My Town, is Akerman's first film, an absurdist French New Wave-inspired "day in the life" vignette about a young woman in her kitchen.
The second in the screening series "The Cinema of Chantal Akerman: Time, Borders, Politics"