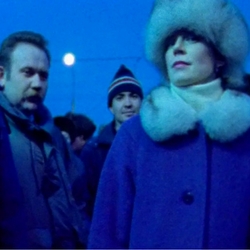 When: Thursday, April 20, 2017
7:00 PM - 9:00 PM Central
Where: Block Museum of Art, Mary and Leigh, 40 Arts Circle Drive, Evanston, IL 60208 map it
Audience: Faculty/Staff - Student - Public - Post Docs/Docs - Graduate Students
Cost: Free and open to all.
Contact: Block Museum of Art (847) 491-4000

Group: Block Museum of Art
Category: Fine Arts
Description:
D'Est (From the East)
(Chantal Akerman,1993, Belgium/France/Portugal, 110 min.)
Perhaps Chantal Akerman's most visually stunning film, From the East is a personal travelogue, a journey through Eastern Europe at the time of the dissolution of the former Soviet bloc. Akerman journeys from west to east—through East German, Poland, the Baltics, and Russia—and from summer to winter. It's an observation film of small details and moments, presented without dialogue or narration, and haunting in its revealing of a time and place in transition. At its heart are the people, anonymous crowds and individuals who have been locked in to a way of life that has become unraveled. Described by many critics as an elegy, From the East is indeed a moody, somber, and mournful work, but one that treats its subject (and subjects) with a loving eye and respect. "A travelogue through history... Akerman has described this elegant masterpiece as 'documentary bordering on fiction'; it's also a purely cinematic monument in time and space."—J. Hoberman, The Village Voice
The third in the screening series "The Cinema of Chantal Akerman: Time, Borders, Politics"