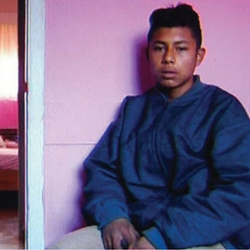 When: Thursday, April 27, 2017
7:00 PM - 9:00 PM Central
Where: Block Museum of Art, Mary and Leigh, 40 Arts Circle Drive, Evanston, IL 60208 map it
Audience: Faculty/Staff - Student - Public - Post Docs/Docs - Graduate Students
Cost: Free and open to all.
Contact: Block Museum of Art (847) 491-4000

Group: Block Museum of Art
Category: Fine Arts
Description:
De l'autre côté (From the Other Side)
(Chantal Akerman, 2002, France, 99 min.)
In the light of our current political moment, Chantal Akerman's films feel more urgent than ever; but perhaps none more so than From the Other Side, a minimalist and evocative exploration of the U.S.-Mexican border and the lives of those who live and work there. Akerman again brings her talent for landscape cinematography to the mountains and deserts of Arizona, painting a terrain that stands between work and poverty for Mexican immigrants hoping to find a way across. Coupled with this are interviews with many of the stakeholders: immigrants themselves, law enforcement, U.S. locals who live along the border, and immigration rights advocates. Part landscape study, portraiture, structural formalism, documentary, journalism, and essay, From the Other Side is ultimately, as Dave Kehr wrote in the New York Times, a "spare, painterly and scrupulously unsentimental look. Both eerily beautiful and filled with a quiet compassion."
The fourth in the screening series "The Cinema of Chantal Akerman: Time, Borders, Politics"