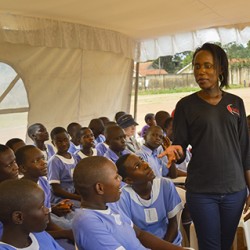 When: Friday, April 7, 2017
12:00 PM - 1:00 PM Central
Where: 1902 Sheridan Road, Evanston, IL 60208 map it
Audience: Faculty/Staff - Student - Public - Post Docs/Docs - Graduate Students
Contact: Iszy Licht 847.467.2770

Group: Buffett Institute for Global Affairs
Category: Global & Civic Engagement
Description:
In the past decade, the adolescent girl has become an icon for the international development industry. These campaigns have redirected billions of dollars toward programs and policies designed to "empower" adolescent girls so that girls, in turn, will break the cycle of poverty. This talk examines the intertwining temporalities of development – international and human – that drive the movement as it circles the globe, from North American campaign headquarters into the lives of teenage women living in Kampala, Uganda's capital city, and from urban Ugandan slums to advocacy events at the United Nations.
Erin Moore, an anthropologist and postdoctoral fellow at the Buffett Institute, is currently investigating the politics of scale and the pragmatics of translation in the international development industry. Her project follows one major multinational NGO's campaign to empower adolescent girls as it made it way through transnational organizational channels and into the lives of teenage women living in urban Uganda. Her broader research interests converge in the ethnography of global circulations and the study of gender, sexuality, and transnational feminisms.
This is part of the Buffett Institute Faculty & Fellows Colloquium. On Fridays during the school year, the Buffett Institute hosts Northwestern faculty and/or visiting fellows to present their current research. This forum brings together an interdisciplinary audience to build awareness of global research on campus. The series helps promote dialogue on scholarship and develop a deeper sense of community among Buffett Institute affiliates. Each meeting lasts one hour; lunch is provided. Please arrive early to get lunch and find a seat.