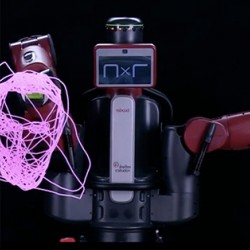 When: Friday, May 12, 2017
12:00 PM - 1:00 PM
Where: 1902 Sheridan Road, Evanston, IL 60208 map it
Audience: Faculty/Staff - Student - Public - Post Docs/Docs - Graduate Students
Contact: Iszy Licht 847.467.2770

Group: Buffett Institute for Global Studies
Category: Global & Civic Engagement
Description:
Robots are increasingly integrating into our lives: we are transported by driverless cars, have vacuums that autonomously clean our homes, and expect machines to deliver our packages. Robots that create artwork confront us with a broader perspective on automation. Todd Murphey will discuss how we enable robots to create art, and consider both the opportunities and risks they might create.
Todd Murphey (McCormick) focuses on computational methods in dynamics and control in his research. Example projects include simulation and control synthesis for a biomechanical model of the human hand, stabilization of large-scale power network models using a single bit of control authority, and dynamic search for underwater vehicles using electrosense for localization and mapping.
This is part of the Buffett Institute Faculty & Fellows Colloquium. On Fridays during the school year, the Buffett Institute hosts Northwestern faculty and/or visiting fellows to present their current research. This forum brings together an interdisciplinary audience to build awareness of global research on campus. The series helps promote dialogue on scholarship and develop a deeper sense of community among Buffett Institute affiliates. Each meeting lasts one hour; lunch is provided. Please arrive early to get lunch and find a seat.