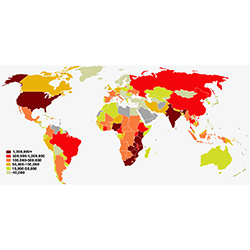 When: Friday, November 10, 2017
12:00 PM - 1:00 PM
Where: 1902 Sheridan Road, Evanston, IL 60208 map it
Audience: Faculty/Staff - Student - Public - Post Docs/Docs - Graduate Students
Contact: Iszy Licht 847.467.2770

Group: Buffett Institute for Global Studies
Category: Global & Civic Engagement
Description:
This talk will explore the global history of AIDS and chart a transnational tale from Africa to the Americas and back. It pays particular attention to the local particularities of the AIDS epidemic in such crucial sites as South Africa, Uganda, the United States, Haiti, Cuba, and Brazil. It also examines the multiplicity of actors, from government officials to social activists to persons with AIDS, in the making of what some have called the global governance of AIDS. In the end, the essential argument is that AIDS is both a metaphor for and a product of the two latest waves of globalization (the late 19th and 20th centuries).
Patrick Kelly is a Buffett Institute Postdoctoral Fellow with a doctorate in History from the University of Chicago. He researches and teaches broadly across modern global history, and is particularly interested in how and why people, ideas, and diseases cross national borders. This interest shaped his first book, Sovereign Emergencies: Latin America and the Making of Global Human Rights Politics (Cambridge, 2018), which examines the intersection of Latin American and global human rights politics since the 1970s. 
This is part of the Buffett Institute Faculty & Fellows Colloquium. On Fridays during the school year, the Buffett Institute hosts Northwestern faculty and/or visiting fellows to present their current research. This forum brings together an interdisciplinary audience to build awareness of global research on campus. The series helps promote dialogue on scholarship and develop a deeper sense of community among Buffett Institute affiliates. Each meeting lasts one hour; lunch is provided. Please arrive early to get lunch and find a seat.