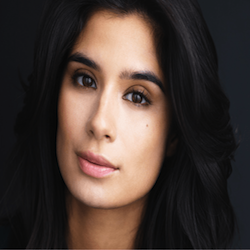 When: Tuesday, October 3, 2017
6:00 PM - 7:30 PM
Where: Technological Institute, Ryan Family Auditorium, 2145 Sheridan Road, Evanston, IL 60208 map it
Audience: Faculty/Staff - Student - Public - Post Docs/Docs - Graduate Students
Cost: Free and Open to Public
Contact: Carlos Octavio Ballinas 847.467.3980

Group: The Latina and Latino Studies Program
Co-Sponsor(s):
Department of Spanish and Portuguese
Latin American and Caribbean Studies
Multicultural Student Affairs (MSA)

Category: Multicultural & Diversity
Description:
Diane Guerrero is a Boston native and has, since an early age, had an affinity with the arts. She attended the Boston Arts Academy where she studied vocal music. After attending college, she realized her passion lay in performance art, and moved to New York to pursue her dreams. Diane has subsequently appeared on numerous Television series and is best known for her roles as "Maritza Ramos" in the award-winning, Emmy-and Golden Globe-nominated Netflix series Orange Is the New Black (for which she received three Screen Actors Guild awards), and as "Lina" in CW's break-out hit, Jane the Virgin.
Diane's memoir, In the Country We Love, published by Henry Holt, details her life as a citizen daughter of undocumented parents, and her years-long struggle to deal with the consequences of the broken immigration system.
In 2015, Diane was named a White House Ambassador for Citizenship and Naturalization. She is an outspoken advocate for commonsense, comprehensive immigration reform and has worked with Immigrant Legal Resource Center; Mi Familia Vota, a nonpartisan Latino civic engagement organization to promote immigration reform and citizenship and voter registration; and New American Leaders Project.
Co-Sponsored by: Office of the President; Office of Institutional Diversity and Inclusion; Vice President of Student Affairs; Kreeger Wolf Endowment Fund; The Simeon E. Leland Forum; Multicultural Student Affairs; Department of Spanish and Portuguese; Latin American and Carribbean Studies Program; Program in American Studies.