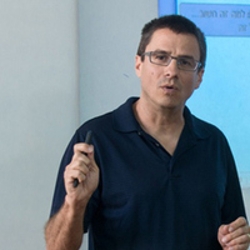 When: Monday, November 13, 2017
12:00 PM - 1:30 PM Central
Where: Kresge Hall, The Forum (Room 1-515), 1880 Campus Drive, Evanston, IL 60208 map it
Audience: Faculty/Staff - Student - Post Docs/Docs - Graduate Students
Cost: free
Contact: Danny Postel

Group: Middle East and North African Studies
Co-Sponsor: International Education Week

Category: Lectures & Meetings
Description:
In this talk, Neve Gordon will discuss the history and politics of human shielding, a growing phenomenon relating to the increasing "weaponization" of human bodies in contemporary warfare. Describing the deployment of human shields in several theatres of violence across the Middle East, Gordon will show how the growing prominence of this legal figure is intricately tied to the evisceration of the ex-colonized civilian.
Neve Gordon is Professor in the Department of Politics and Government at Ben-Gurion University of the Negev, Israel, and Leverhulme Visiting Professor at SOAS, University of London. His research focuses on international law, human rights, the ethics of violence, and the Israeli-Palestinian conflict.
Gordon is the author of Israel's Occupation (University of California Press, 2008), co-author (with Nicola Perugini) of The Human Right to Dominate (Oxford University Press, 2015), editor of From the Margins of Globalization: Critical Perspectives on Human Rights (Lexington Books, 2004), and co-editor of Torture: Human Rights, Medical Ethics and the Case of Israel (Zed Books, 1995).
His articles have appeared in such academic journals as Democratization, Geopolitics, the International Journal of Human Rights, and Peace Review, and in such media outlets as the Boston Globe, The Chronicle of Higher Education, The Guardian, the London Review of Books, the Los Angeles Review of Books, and the Washington Post.
He is currently working on a new book project dealing with the history and politics of human shields.