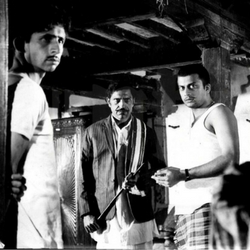 When: Friday, September 22, 2017
7:00 PM - 9:00 PM
Where: Block Museum of Art, Mary and Leigh, 40 Arts Circle Drive, Evanston, IL 60208 map it
Audience: Faculty/Staff - Student - Public - Post Docs/Docs - Graduate Students
Cost: Free and Open to All
Contact: Block Museum of Art 847.491.4000

Group: Block Museum of Art
Category: Fine Arts
Description:
Nishant
Friday, September 22 7pm
(Shyam Benegal, 1975, India, digital, 140 min.)
India's art house boom of the 1960s and 1970s owes much to the government: many "parallel" or new wave films were funded by the state-run Film Finance Corporation, whose mission was to promote art cinema. Shyam Benegal, one of the leading auteurs of this genre, found support from the FFC for his first two films, allowing him to establish his career. For the third film—Nishant (1975)—he faced red tape, and turned to an advertising agency for money to help complete his film. The result is his most incendiary work of social realism, fiercely critical of the feudal and patriarchal oppression that was still endemic in India. It features the great stars of Indian art cinema, including Shabana Azmi, Amrish Puri, Girish Karnad, and Naseeruddin Shah, in his first role.
---
This film is part of the series
Ministry of Light: Experimental State-Sponsored Films from India, 1968-1975
Can cinema make you a good citizen? For a half century, the Indian government hoped so; until 1994, they required commercial cinemas to screen twenty minutes of state-sponsored content before the feature presentation, forcing its movie-mad people to absorb information about the country's progress and development. In the 1960s, the organization that produced these shorts—Films Division—grew tired of dry documentaries and began to experiment. Its filmmakers played with form and used diverse modes such as animation, mixed-media, and even claymation, to present a more diverse and ambivalent vision of India to its people. The FD also funded films from India's new wave (sometimes known as Parallel Cinema), which exchanged big Bollywood fantasies for micro-scale neorealism. This series presents a selection of Films Division's sharpest verité and wildest avant-garde shorts, as well as Shyam Benegal's state-supported masterpiece of alternative cinema, Nishant.