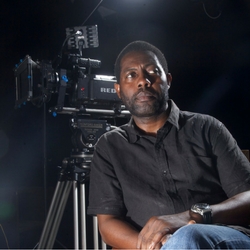 When: Thursday, October 26, 2017
7:00 PM - 9:00 PM
Where: Block Museum of Art, Mary and Leigh, 40 Arts Circle Drive, Evanston, IL 60208 map it
Audience: Faculty/Staff - Student - Public - Post Docs/Docs - Graduate Students
Cost: Free and Open to All
Contact: Block Museum of Art 847.491.4000

Group: Block Museum of Art
Co-Sponsor(s):
Program of African Studies

Category: Fine Arts
Description:
Nigeria in Self-Conversation: The Films of Femi Odugbemi
Lagosian filmmaker Femi Odugbemi is a leader of the Nollywood film industry. He studied film and television production at Montana State University from 1979 to 1983. There he became determined to counter the prevailing derogatory depiction of Africa and its culture in the US press, films, and media. Back home, he first embarked on a career in advertising, but used his profits to make independent documentaries on popular culture, education, and other social issues that concerned him. His documentaries make him unique among Nollywood filmmakers who focus on folklore, melodrama, and romance. Odugbemi has served on the executive boards of important Nigerian industry associations, and on continental and international awards juries and film festival boards, including the Emmy Awards. In 2010 Odugbemi cofounded iRepresent International Documentary Film Forum, where he is also executive director. The forum's conceptual theme of "Africa in self-conversation" drives its mission to use documentary film as a tool to foster sociocultural education and encourage participatory democracy in Nigeria and other African societies.
----
Documentary shorts
Thursday, October 26 7pm
Makoko: Futures Afloat (Femi Odugbemi, 2016, Nigeria, digital, 29 min.)
Bariga Boy (Femi Odugbemi, 2009, Nigeria, digital, 25 min.)
Oui Voodoo (Femi Odugbemi, 2005, Nigeria, digital, 45 min.)
These three short documentaries highlight Odugbemi's enduring interest in a wide range of African cultures and communities. Makoko looks at the educational initiatives within a sprawling, neglected fishing community floating on the waste of Lagos. Bariga Boy profiles the leader of the singular Crown Troupe, a dance-theater group combining the biting satire of traditional Nigerian theatre with street culture. In Oui Voodoo, a nonspiritual Beninese man is told he must appease the gods of his ancestors, embodying the spiritual dilemma faced by many Africans.
In person: Femi Odugbemi
---
Presented in Collaboration with the Program of African Studies.