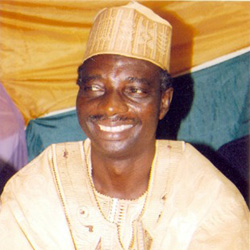 When: Wednesday, November 15, 2017
12:00 PM - 1:15 PM
Where: 620 Library Place, Room 106, Evanston, IL 60208 map it
Audience: Faculty/Staff - Student - Public - Post Docs/Docs - Graduate Students
Contact: Program of African Studies 847.491.7323

Group: Program of African Studies
Co-Sponsor(s):
International Education Week

Category: Lectures & Meetings
Description:
Join the Program of African Studies for our weekly lunch and lecture.
Speaker: Amidu Sanni, African & Middle Eastern Studies, Lagos State University, Nigeria
Title: New Muslim-Christian (Mis)expression of Piety and Secularism in Nigeria: Interaction or Counteraction?
Abstract:
Christian-Muslim encounter in Africa is as old as Islam; Christian Abyssinia (Ethiopia) was the first place of refuge for persecuted Muslims in 615. An enduring interface between Christianity and Islam in Nigeria goes back to (24 September) 1842 when Christianity was first preached at Badagry. The two faiths have thus had close to two centuries of interaction, along with the traditional belief system to complete the creedal triangle that is true of many African communities. Besides, both religions have shared much in the way of culture and acculturation, and have "learned, appropriated and borrowed from each other" (Soares 2006). But exposure and response to religious and social trends by the two faiths over the years has never been uniform in degree and/or type. Of the most recent trends are Pentecostalism, Secularism, Modernity, outward expression of faith (orthodoxy/orthopraxy), creedal semiotics (in form of religious icons or dressing), among others. Sanneh (1996), (Ihle 2003), and more recently Østebø (2015), and Loimeier (2013) have attempted some analyses of the causes and manifestations of piety and religiosity in Sudanic Africa in the context of religious and ethical renewal, but the situation in Nigeria, specifically among the Yoruba (southwest Nigeria) is hardly noted.
My talk will examine the convergence and divergence in Christian and Muslim responses to secularism and pietism among the Yoruba in the wider context of 'experiential religiosity' (Cf. Riaz Hassan 2005). Moreover, how do the adherents of both faiths currently objectify tolerance, toleration, and outright antagonism towards each other's embrace of the trends on the one hand, and the reaction of the state and the general public to the same development on the other? Scholarly research on the subject matter by experts on Islam and Christianity seems to be generally characterized by single track, parallel narratives; neither seems to be conversing with the other. The need for an all-embracing approach and analysis is a major point my presentation will try to emphasize.

Bio:
Amidu Olalekan Sanni is Professor of Arabic and Middle Eastern Studies at Lagos State University, Nigeria. He obtained his Bachelors and Masters in Arabic and Islamic Studies from the University of Ibadan Nigeria. As a British Commonwealth scholar, he completed his PhD at the University of London School of Oriental and African Studies in 1989. His original area of research was classical Arabic literature, and he has published extensively on Arabic poetics. Dr. Sanni is also an expert in the Arabic literary traditions of Nigeria, particularly among Yoruba-speaking populations. He also writes, publishes, and comments regularly on Islam in contemporary Nigeria. He has contributed his expertise to numerous preservation and digitization initiatives in Nigeria and beyond, including the University of Cape Town's Tombouctou Manuscript Project. Dr. Sanni has been a fellow of the Alexander von Humboldt Foundation (Germany), the Scaliger Institute of the University of Leiden (Netherlands), among others.