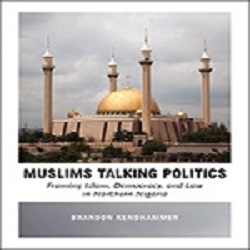 When: Wednesday, March 7, 2018
4:00 PM - 6:00 PM Central
Where: Scott Hall, Room 201, 601 University Place, Evanston, IL 60208 map it
Audience: Faculty/Staff - Student - Public - Post Docs/Docs - Graduate Students
Contact: Rebecca Shereikis (847) 491-2598

Group: Institute for the Study of Islamic Thought in Africa (ISITA)
Category: Academic
Description:
Join us for a dialog between the authors of two important recent studies of Islamic law and politics in northern Nigeria. Sarah Eltantawi (assistant professor of religion, Evergreen State College) discusses her recent work Shariʻah on Trial: Northern Nigeria's Islamic Revolution (University of California Press, 2017) and Brandon Kendhammer (associate professor of political science, Ohio University) addresses his book Muslims Talking Politics: Framing Islam, Democracy and Law in Northern Nigeria (University of Chicago Press, 2016)
Discussant: Brannon Ingram, assistant professor of religious studies, Northwestern University
The ISITA Perspectives Symposium Series brings leading scholars of Islam in Africa to Northwestern for discussion of their recent books.  Each symosia features two authors and a discussant.
Speaker bios:
Sarah Eltantawi is a social and intellectual historian of contemporary Islam. She is an Assistant Professor in Comparative Religion and Islamic Studies at the Evergreen State College in Olympia, WA and a research scholar at the Middle East Center of the University of Washington.
Her book, Shari'ah on Trial: Northern Nigeria's Islamic Revolution (University of California Press, 2017), is a powerful account of how Northern Nigerians reached a point of such desperation that the demanded the return of the strictest possible shari'ah law. The book analyzes changing conceptions of Islamic theology and practice as well as Muslim and British interactions dating back to the colonial period to explain the resurgence of shari'ah, with implications for Muslim-majority countries around the world.

Eltantawi earned her Ph.D. in the Study of Religion in 2012 from Harvard University and has held fellowships at Brandeis University, UC Berkeley, and at the Wissenschaftskolleg in Berlin. She has an MA in Middle Eastern Studies from Harvard University and a BA in Rhetoric and English literature from UC Berkeley.
Brandon Kendhammer is Associate Professor of Political Science at Ohio University. His research and teaching interests are in the area of Nigerian politics, political Islam, and ethnic politics.
His book, Muslims Talking Politics: Islam, Democracy, and Law in Northern Nigeria (University of Chicago Press, 2016), explores the emergence of popular demands for the expansion of Islamic law in new Muslim-majority democracies, while his most recent work focuses on the perils of ethno-religious powersharing in uncertain African democracies. He is also co-authoring a short history of the Boko Haram crisis.

Kendhammer has lived and conducted research in Cameroon and Nigeria and was a Fulbright Fellow in Nigeria in 2007-08, based at Usmanu Danfodiyo University in Sokoto. His work has appeared in many academic journals, including Comparative Politics, Journal of Human Rights, and Ethnopolitics. He is also the co-author of a USAID-funded report on countering Boko Haram's violent extremism in northern Nigeria, and speaks regularly on this subject to government and international media.

He holds a B.A. in French and political science from Coe College and a Ph.D. in political science from the University of Wisconsin-Madison.