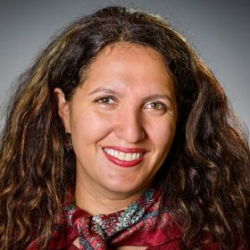 When: Monday, March 5, 2018
12:00 PM - 1:30 PM
Where: Kresge Hall, 1-515 (The Forum), 1880 Campus Drive, Evanston, IL 60208 map it
Audience: Faculty/Staff - Student - Post Docs/Docs - Graduate Students
Cost: Free
Contact: Danny Postel

Group: Middle East and North African Studies
Co-Sponsor(s):
Institute for the Study of Islamic Thought in Africa (ISITA)

Category: Lectures & Meetings
Description:
The Muslim Brotherhood was founded in 1928 by Hassan al-Banna at a time of great transition in Egypt, as the Ottoman Empire succumbed to British colonial rule. In this talk, Sarah Eltantawi will present some of her research on the political theology of the Muslim Brotherhood in Egypt, which asks where the theological ends and the political begins for the group.
Sarah Eltantawi is a member of the faculty in Comparative Religion and Islamic Studies at the Evergreen State College in Olympia, Washington, where she teaches the courses Transnational Feminisms, Islamic Modernity in Global Perspective, God(s): An Inquiry, and Movements and Migrations: Sustainability and Change in Religion and Culture, among others.
She is the author of Sharia on Trial: Northern Nigeria's Islamic Revolution (University of California Press, 2017). She is currently at work on a new book on the rise of the of the Muslim Brotherhood in Egypt from 1928 to the present, focusing on the question of the group's "political theology" and its place in traditions of political theory. She has also published on issues ranging from early Shi'ite jurisprudence to perceptions of "post-modernity" in Nigeria to the revolution in Egypt.
She is also an Affiliate Researcher with the Middle East Center of the University of Washington. She earned her PhD in the Study of Religion in 2012 from Harvard University, where she was the Jennifer W. Oppenheimer Fellow and Fellow at the Center for Public Leadership at the John F. Kennedy School of Government.
co-sponsored by the Institute for the Study of Islamic Thought in Africa