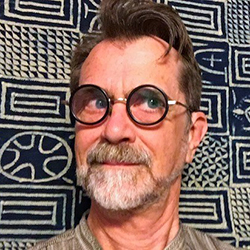 When: Wednesday, May 30, 2018
12:00 PM - 1:15 PM
Where: 620 Library Place, Room 106, Evanston, IL 60208 map it
Audience: Faculty/Staff - Student - Public - Post Docs/Docs - Graduate Students
Contact: Program of African Studies 847.491.7323

Group: Program of African Studies
Category: Lectures & Meetings
Description:
Join the Program of African Studies for our weekly lunch and lecture.
Cosponsored by the Nollywood Working Group.
Wither Nollywood? The Future of Popular Media in Africa
John McCall, anthropology, Southern Illinois University
Talk abstract:
The independent video movie industry in Nigeria popularly dubbed "Nollywood" developed an innovative form of media production, distribution and screening that transformed the mediascape in Africa and attracted the attention of researchers. Recently however, the appeal of the high-quality, formally financed "New Nollywood" films has drawn scholars' attention away from the continuing spread of more informal regional video movie production across Africa. The evident quality and significance of New Nollywood movies, and their cosmopolitan character fits them easily into the frame of academic film criticism. The local informal productions however, remain the foremost form of popular media in Africa. This paper attempts draw scholarly attention back to the less metropolitan more regional expressions of video movie production in Africa.
Bio:
My research is focused on African arts, music, and dance. I am particularly interested in the performance arts as mechanisms of collective memory, historiography, and the production of meaning in community life.
Since 2000, I have devoted my attention to Africa's enthusiastic and innovative embrace of digital media, which have made it possible for people of modest means to produce and distribute movies without foreign funding or dependence on the infrastructures of transnational media corporations. Most of this research focuses on the Nigerian video movie industry that has become popularly known as: "Nollywood."