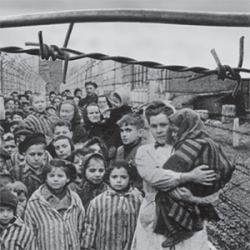 When: Tuesday, April 24, 2018
5:00 PM - 7:00 PM
Where: Block Museum of Art, Mary and Leigh, Pick-Laudati Auditorium, 40 Arts Circle Drive, Evanston, IL 60208 map it
Audience: Faculty/Staff - Student - Public - Post Docs/Docs - Graduate Students
Cost: Free
Contact: Ariel Schwartz 847.491.4481

Group: Buffett Institute for Global Affairs
Category: Global & Civic Engagement
Description:
Leila Sadat is a Buffett Institute Distinguished Visitor and a human rights expert specializing in international criminal law and foreign affairs. As the founder and chair of the Crimes Against Humanity Initiative at the Harris Institute, she helped draft a convention on the prevention and punishment of crimes against humanity, which is currently being debated by the UN International Law Commission. In 2012, Sadat was named Special Adviser on Crimes Against Humanity to the International Criminal Court (ICC).
She recently directed the documentary, Never Again: Forging a Convention for Crimes Against Humanity.
Sadat is a professor of law at Washington University and the director of its Whitney R. Harris World Law Institute. Her areas of focus include international crimes and amnesties, gender crimes and sexual violence, legal questions surrounding America's drone wars, and the war in Syria. 
5:00 p.m. Screening, Never Again: Forging a Convention for Crimes Against Humanity
6:00 p.m. Panel discussion with affiliates Juliet Sorensen and David Scheffer
About the Distinguished Visitors Program
From senior government leaders to heads of nonprofits and international institutions, Distinguished Visitors bring their global experiences and insights to the Northwestern community, enriching learning and enhancing research across campus.
The Distinguished Visitors Program establishes new partnerships between Northwestern and international organizations, strengthens existing partnerships, and provides Northwestern students and faculty opportunities to interact with, and learn from, prominent global leaders.