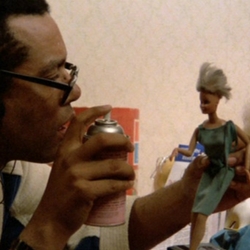 When: Thursday, April 19, 2018
7:00 PM - 9:00 PM
Where: Block Museum of Art, Mary and Leigh, 40 Arts Circle Drive, Evanston, IL 60208 map it
Audience: Faculty/Staff - Student - Public - Post Docs/Docs - Graduate Students
Cost: Free and Open to All
Contact: Block Museum of Art 847.491.4000

Group: Block Museum of Art
Category: Fine Arts
Description:
Chameleon Street (Wendell B. Harris Jr., 1990, USA, DCP, 94 min.)
Winner of the Grand Jury Prize at the 1990 Sundance Film Festival but then falling into near obscurity, Wendell B. Harris' Chameleon Street is now considered a classic of 1980s African-American independent filmmaking. Harris wrote, directed, and starred in the film, which is based on a real-life con-man imposter, who successfully passed himself off as reporters, doctors, lawyers, and more. The film touches very directly on themes of race, class, and economics—it's a work of biting social critique—but Harris also doesn't lose sight of the absurdity and humor of the material. Badly distributed when it was finally released in 1991, Chameleon Street has been undergoing a re-evaluation over the last decade. As Ashley Clark wrote in Sight and Sound magazine, "Chameleon Street exists as a gloriously strange one-off that deserves to be appreciated by a new generation." (FREE)
This screening is part of the Block Cinema series:
Hank Willis Thomas: Different Image
April 13-May 31
The subversive appropriations of commercial imagery in Hank Willis Thomas's Unbranded series, on view in the Block's main gallery, serve as a launching pad for this series, which looks at the ways filmmakers have used cinema to explore—and to dismantle—socially-imposed images and identities of race, class, gender, and sexuality. The title of the series comes from Alile Sharon Larkin's singular, under-seen 1982 film A Different Image, in which a young Black woman confronts sexual objectification in both her environment and in her relationships with friends and coworkers. Images create structures of oppression in films as diverse as Todd Haynes' Safe (1995) and John Carpenter's They Live (1988), but what these films share above all is the pursuit of visual strategies for creating a disobedient, self-determined image.