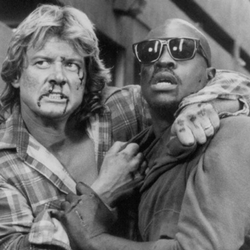 When: Thursday, May 31, 2018
7:00 PM - 9:00 PM
Where: Block Museum of Art, Mary and Leigh, 40 Arts Circle Drive, Evanston, IL 60208 map it
Audience: Faculty/Staff - Student - Public - Post Docs/Docs - Graduate Students
Cost: Free And Open to All
Contact: Block Museum of Art 847.491.4000

Group: Block Museum of Art
Category: Academic
Description:
They Live (John Carpenter, 1988, USA, 35mm, 94 min.)
The political and social critique of genre master John Carpenter's science fiction/horror film They Live was timely when it came out and has become even more prescient in the intervening two decades. The film follows a drifter (Roddy Piper) who finds a stash of glasses that reveal the world as it actually is—one ruled by a race of aliens who maintain control through ubiquitous subliminal messages commanding obeisance, consumption, and conformity. Since its release, the film has become a cult favorite and a pop-culture reference point for many artists, including Hank Willis Thomas. It has also garnered more high-brow appreciation: philosopher and psychoanalyst Slavoj Žižek features it prominently in his film The Pervert's Guide to Ideology and novelist and essayist Jonathan Lethem has written a book about the film. In the tradition of Invasion of the Body Snatchers (1956) and Night of the Living Dead (1968), They Live demonstrates that sometimes the most politically subversive films are aimed at the id rather than the intellect.
(FREE)
This film is part of the Bock Cinema series
Hank Willis Thomas: Different Image
April 13-May 31

The subversive appropriations of commercial imagery in Hank Willis Thomas's Unbranded series, on view in the Block's main gallery, serve as a launching pad for this series, which looks at the ways filmmakers have used cinema to explore—and to dismantle—socially-imposed images and identities of race, class, gender, and sexuality. The title of the series comes from Alile Sharon Larkin's singular, under-seen 1982 film A Different Image, in which a young Black woman confronts sexual objectification in both her environment and in her relationships with friends and coworkers. Images create structures of oppression in films as diverse as Todd Haynes' Safe (1995) and John Carpenter's They Live (1988), but what these films share above all is the pursuit of visual strategies for creating a disobedient, self-determined image.