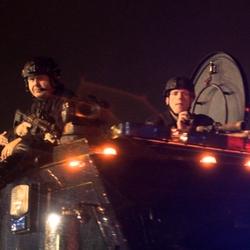 When: Saturday, May 19, 2018
1:00 PM - 3:00 PM
Where: Block Museum of Art, Mary and Leigh, 40 Arts Circle Drive, Evanston, IL 60208 map it
Audience: Faculty/Staff - Student - Public - Post Docs/Docs - Graduate Students
Cost: Free and Open to All
Contact: Block Museum of Art 847.491.4000

Group: Block Museum of Art
Category: Fine Arts
Description:
Do Not Resist (Craig Atkinson, 2016, USA, DCP, 72 min.)
This riveting documentary, a Grand Prize winner at the Tribeca Film Festival, looks at the increasing militarization of police departments across the country in the years following 9/11. Director Craig Atkinson gained first-hand access to those central to the issue, police officers and equipment and technology manufacturers and dealers, at police conventions, equipment expos, and on the ground, including by embedding with several SWAT teams. He chronicles the new state of law enforcement, one that finds it increasingly easy to acquire military hardware, powerful computer tools, and ever-more-deadly weaponry, and that then must make use of them. Reality intrudes on the unparalleled and surprising cooperation Atkinson received with the killing of Michael Brown in Ferguson, Missouri; his contacts no longer are as forthcoming, but the incident becomes a stark example on a larger scale of the very issue Atkinson is documenting. "An eye-opening experience."—Dexter Filkins, New Yorker
(FREE)
This program is part of the series
Watching the Detectives May 3-May 19
Technological advances have put video cameras in millions of pockets, but the American justice system too often remains opaque to outside scrutiny. Documentary filmmakers take on this challenge in this film series pairing vital recent films with classic and archival works.