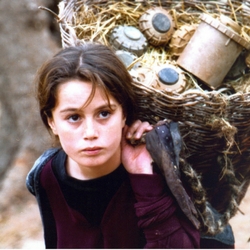 When: Thursday, May 24, 2018
7:00 PM - 9:00 PM
Where: Block Museum of Art, Mary and Leigh, 40 Arts Circle Drive, Evanston, IL 60208 map it
Audience: Faculty/Staff - Student - Public - Post Docs/Docs - Graduate Students
Cost: Free and Open to All
Contact: Block Museum of Art 847.491.4000

Group: Block Museum of Art
Category: Fine Arts
Description:
MENA: Middle East and North African Studies at Northwestern University and Block Cinema present a series of screenings & discussions with one of Iran's leading filmmakers, Bahman Ghobadi. This program was made possible by the Iranian American Fund for Cultural Programming. (FREE)
Wednesday, May 23, 2018 7PM FREE
Life on the Border: The Cinema of Bahman Ghobadi
A Time for Drunken Horses (Bahman Ghobadi, 2000, Iran, 35mm, 80 min.)
Kurdish-Iranian filmmaker Bahman Ghobadi's first feature is about the hardships faced by Kurdish siblings after their parents' deaths. Oldest son Ayoub attempts to find work to support his family and fund an operation for his disabled brother, eventually falling in with smugglers but raising little cash. Their uncle tries unsuccessfully to marry off Ayoub's sister in exchange for money for the operation. A second smuggling operation (in the cold mountain regions where the smugglers give their animals alcohol, providing the film's title) also ends in failure. Ghobadi's somber, unvarnished treatment of the lives of this desperate young trio carries on the traditions of the Iranian New Wave, but with a pointed focus on a marginalized ethnicity in Iran. His sensitive depiction of his characters led to a Caméra d'Or award at the Cannes Film Festival. "A film with a fierce, spare, beautiful cinematic language, a movie with a steely clarity that does not diminish its compassion and spiritual generosity."—Peter Bradshaw, The Guardian

Thursday, May 24, 2018 7PM FREE
Life on the Border: The Cinema of Bahman Ghobadi
Turtles Can Fly (Bahman Ghobadi, 2004, Iran, 35mm, 98 min.)
Bahman Ghobadi's raw and moving war story was the first film shot in Iraq after the fall of Saddam Hussein. It is focused on several children living in a Kurdish refugee camp near the Iran-Iraq border just before the 2003 U.S.-led ground invasion. Satellite, a young teen, is the leader of a gang of kids, who he puts to work clearing land mines that he then sells to arms dealers. He is a natural entrepreneur, looking to turn every situation to his advantage. He becomes smitten with Agrin, a troubled teen girl who arrives with her armless brother and a blind toddler and who has a painful past. Ghobadi's vision of these children's lives is a bleak one, but moments of humor, hope, and even fantasy puncture the film's harshness. Critic Robert Koehler calls the film "engrossing" and "nuanced" and says that with this film "Bahman Ghobadi confirms his place as the poet laureate of Kurdish cinema."
Friday, May 25, 2018 7PM FREE
Life on the Border: The Cinema of Bahman Ghobadi
No One Knows about Persian Cats (Bahman Ghobadi, 2009, Iran/France/Iraq, 35mm, 106 min.)
All Negar and Ashkan want to do is play music—described as 'indie rock'—but that's not so easy to do in contemporary Iran, where they and other musicians must skirt the law to perform, often in clandestine, "underground" venues. Like the two earlier films in this series, No One Knows About Persian Cats is a critical look at social and political issues in Iran; New York Times critic A.O. Scott calls it both "seething" and "bouncy." The film is certainly lighter than A Time for Drunken Horses and Turtles Can Fly—it follows Negar and Ashkan as they try to round up a band and obtain travel visas to leave the country. Much of the energy and vibrancy comes from the almost guerilla-style filming in Tehran and from the cast, which is largely made up of real musicians. Narrative tropes familiar in music films—auditions, rehearsals, dealing with bureaucracies, arranging gigs—gain a freshness from the uniqueness of the cultural setting. Though quite different from his earlier films, Persian Cats is another work about hope and perseverance in challenging circumstances.