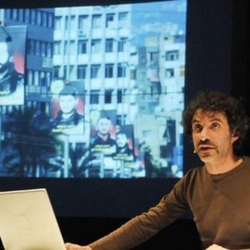 When: Friday, April 20, 2018
12:00 PM - 2:00 PM Central
Where: Block Museum of Art, Mary and Leigh, 40 Arts Circle Drive, Evanston, IL 60208 map it
Audience: Faculty/Staff - Student - Post Docs/Docs - Graduate Students
Cost: Free and Open to Northwestern Community
Contact: Block Museum of Art (847) 491-4000

Group: Block Museum of Art
Co-Sponsor: Middle East and North African Studies

Category: Fine Arts
Description:
Please join us for a screening of Footnotes, a recent video by the celebrated Lebanese artist, actor, and playwright, Rabih Mroué. Fragmented and speculative in its form, Footnotes narrates an elegiac story about the traces that war leaves on the bodies and biographies of those whose lives it touches. Hannah Feldman, Associate Professor of Art History, CLS, and MENA, and Michael Rakowitz, Professor of ArtTheory and Practice will join Mroué in conversation following the screening.
About Rabih Mroué
Mroué's practice merges visual imagery and performance and has long been concerned with the way in which violence is mediated by the image, written text, and speech. His multi-media work about cell phone videos documenting the atrocities witnessed in the Syrian Civil War extends a decades-long investigation of the image politics and sectarian division in the Middle East, and especially in Lebanon following the end of its 15 year Civil War in 1990. A leading member of the generation of Lebanese artists who came to world attention in the decade after this war, Mroué joins figures like Walid Raad and Akram Zaatari in his use of near forensic research to challenge traditional modes of art making and historical documentation. A member of the editorial board of The Drama Review and co-founder of the Beirut Art Center, Mroué's performances, theatrical productions, films, and art works have been shown in DOCUMENTA (13), MoMA, The Art Institute of Chicago, the ICA Boston, the Frankfurter Kunstverein, the Centre Pompidou, Salt Istanbul, the House of World Cultures in Berlin, and Tate Modern, to name only a selected few. He is the winner of the Bansemer & Nyssen's Dramatic Prize, as well as the Spalding Grey Award. Writing in the New York Times about Mroué's collaborative theatrical work, Kaelen Wilson-Goldie commented that it is "to Beirut what the Wooster Group is to New York: a blend of avant-garde innovation, conceptual complexity and political urgency, all grounded in earthy humor."

See more here:
https://walkerart.org/calendar/2016/rabih-mroue

http://www.tate.org.uk/research/publications/in-focus/on-three-posters-rabih-mroue/interview-with-rabih-mroue
This program is co-sponsored by the Department of Art History, Art Theory & Practice, The Block Museum of Art, the Center for the Writing Arts, and the Middle East and North African Studies Program.