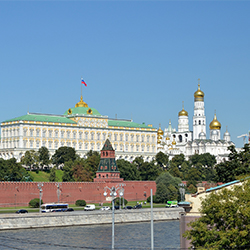 When: Wednesday, May 23, 2018
5:30 PM - 7:00 PM Central
Where: Harris Hall, Room 108, 1881 Sheridan Road, Evanston, IL 60208 map it
Audience: Faculty/Staff - Student - Public - Post Docs/Docs - Graduate Students
Contact: Ariel Schwartz (847) 491-4481

Group: Buffett Institute for Global Affairs
Category: Global & Civic Engagement
Description:
During his final visit of the year, Buffett Institute Distinguished Visitor Strobe Talbott will take part in a roundtable discussion about the Kremlin's influence in regional and international affairs.
Roundtable participants include:
-Strobe Talbott is a Buffett Institute Distinguished Visitor and an expert in international affairs. Talbott was a long-time reporter for Time magazine before serving in the State Department from 1993 to 2001, where he was the first ambassador-at-large and special adviser to the secretary of state for the new independent states of the former Soviet Union, then deputy secretary of state. He was president of the Brookings Institution from 2002 to 2017 and is currently a senior fellow in the Brookings Foreign Policy program.
-John Bushnell (history) specializes in contemporary Russian society. His first book was Mutiny amid Repression: Russian Soldiers in the Revolution of 1905-1906, and Moscow Graffiti: Language and Subculture was published in 1990. He is currently working on a study of Russian peasant marriage from the 1690s to the 1960s, and projects on Russian popular culture, and popular sedition in post-Stalin society.
-Jordan Gans-Morse (political science) conducts research on corruption, the rule of law, property rights, and political and economic transitions. His primary regional expertise is the former Soviet Union, but he also has conducted research on Central-Eastern Europe and Latin America. He is the author of Property Rights in Post-Soviet Russia: Violence, Corruption, and Demand for Law (Cambridge University Press). He is currently working on a new book manuscript, which draws on evidence from Russia, Ukraine, and Georgia to examine the roots of systemic corruption.
-Ian Kelly (Weinberg '79) is currently a lecturer in International Studies. From 2015-18, he served as the United States Ambassador to Georgia. Previously, he served as U.S. Ambassador to the Organization for Security and Cooperation in Europe, as well as in high-level roles at the U.S. State Department. Prior to his career in the foreign service, he taught Russian at Columbia University.
-Dina Smeltz is a senior fellow for public opinion and foreign policy at the Chicago Council on Global Affairs. She has more than 20 years of experience in designing and fielding international social, political and foreign policy surveys Her experience includes mass public and elite surveys, as well as qualitative research, with a special emphasis research in post-conflict situations (informally referred to as a "combat pollster").
-Moderator: Peter Slevin (journalism) is a Medill associate professor who spent more than 10 years as a Washington Post staff writer. He teaches classes on politics and the media; the U.S. role in world affairs; and reporting strategies on current events.
About the Distinguished Visitors Program
From senior government leaders to heads of nonprofits and international institutions, Distinguished Visitors bring their global experiences and insights to the Northwestern community, enriching learning and enhancing research across campus.
The Distinguished Visitors Program establishes new partnerships between Northwestern and international organizations, strengthens existing partnerships, and provides Northwestern students and faculty opportunities to interact with, and learn from, prominent global leaders.