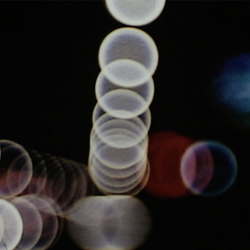 When: Friday, October 12, 2018
7:00 PM - 9:00 PM Central
Where: Block Museum of Art, Mary and Leigh, 40 Arts Circle Drive, Evanston, IL 60208 map it
Audience: Faculty/Staff - Student - Public - Post Docs/Docs - Graduate Students
Cost: Free and open to all.
Contact: Block Museum of Art (847) 491-4000

Group: Block Museum of Art
Category: Fine Arts
Description:
In their advertising and personal films like Night Driving (1957), Mort and Millie Goldsholl devised exciting and adventurous forms of image-making-as did their employees and collaborators. This program surveys some of the Goldsholls' most dazzling shorts, along with underseen works by Goldsholl Studio members like Wayne Boyer, Larry Janiak, and Byron Grush. Exhibition curator Amy Beste will join several of these filmmakers to talk about their films, their experiences with the Goldsholls, and their place at the cutting edge of experimental screen culture in Chicago.
About the Series 
Designers in Film: The Cinematic World of the Goldsholls
This film series complements and extends the Block's exhibition Up Is Down: Mid-Century Experiments in Advertising and Film at the Goldsholl Studio with five programs of films produced by the Chicago-based Goldsholls, their collaborators, influences, and contemporaries. Presenting a wide spectrum of classic and rarely-seen experimental cinema, animation, and commissioned films, Designers in Film explores the playful and innovative atmosphere of 20th-century moving image-making in which Mort and Millie Goldsholl took a central place.