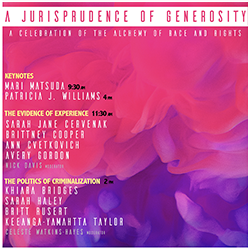 When: Thursday, October 25, 2018
9:00 AM - 6:00 PM CT
Where: Rebecca Crown Center, Hardin Hall, 633 Clark Street, Evanston, IL 60208 map it
Audience: Faculty/Staff - Student - Public - Post Docs/Docs - Graduate Students
Contact: Mishana Garschi (847) 491-5871

Group: Gender & Sexuality Studies Program
Co-Sponsor: The Sexualities Project at Northwestern (SPAN)
Sociology Department
The Women's Center
History Department
Asian American Studies Program
Anthropology Department
SOC - Department of Radio/TV/Film
Alice Kaplan Institute for the Humanities
African American Studies Department
English Department
The Latina and Latino Studies Program

Category: Lectures & Meetings
Description:
This day long event will bring together nationally recognized scholars across the humanities and social sciences to consider the extended impact of Patricia J. Williams' 1991 book, The Alchemy of Race and Rights. Patricia Williams herself will address the conference.
Click here for the full poster.
Considered a pioneering text, The Alchemy of Race and Rights galvanized scholarly conversations across the humanities and social sciences, transforming disciplines ranging from legal studies to feminist theory, black studies to English, sociology to creative writing. It is also the rare scholarly text that garnered tremendous popular interest and praise with The New York Times noting, "Patricia J. Williams changed the voice of legal scholarship" and Ms. Magazine describing Alchemy as one of the "feminist classics of the last twenty years" that "literally changed women's lives."
In addition to the keynote address given by Williams, who is James L. Dohr Professor of Law at Columbia Law School, a MacArthur fellow, Nation columnist, and author of four books – another keynote address will be given by Mari Matsuda, Professor of Law at the William S. Richardson School of Law at the University of Hawai'i, one of a handful of legal scholars credited with originating critical race theory and among those most cited in the field. She is the author of five books and widely respected for her ability to link scholarship, teaching, and activism.
The rest of the conference will be organized around two panels: "The Evidence of Experience" and "The Politics of Criminalization." Each panel aspires to capture an aspect of this foundational text and its afterlives across the disciplines, and to address Williams' ongoing labor as a public intellectual. Our panelists are all leading scholars in the fields of feminist and critical race studies. They include Avery Gordon (University of California/Santa Barbara); Sarah Jane Cervenak (University of North Carolina/Greensboro); Britt Russert (University of Massachusetts); Brittney Cooper (Rutgers University); Ann Cvetkovich (University of Texas/Austin); Sarah Haley (UCLA); Khiara Bridges (Boston University School of Law); and Keeanga-Yamahtta Taylor (Princeton University.)
Lunch will be provided.
Reception to follow.